Staycation @ Naumi – Part 1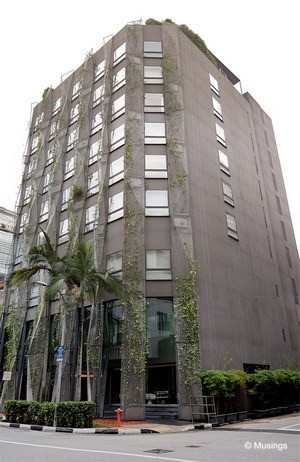 We thought long and hard about whether to take Hannah out for her first short vacation nearby overseas this month as I'd managed to take a stretch of a few days off work, but barely a fortnight before its start date decided not to. So, in the spirit of the year, we went for a second Staycation – this time in the town area.
Six months ago, one hotel was listed on Tripadvisor as Singapore's best; and it was a little boutique hotel along Seah Street (where my grandparents and parents stayed for years), called Naumi Hotel. The hotel's rating has dropped from #1 to about #5 or so since June, but still remains easily in the top-ten hotels in Singapore. Many of the reviews note the hotel's five star-ness, very friendly staff, and laid-back setting.
So we decided to give the place ago, plunking down for a Corporate Suite (our memories of Capella @ Sentosa was still very fresh, and we wanted a similarly large space for Hannah to roam around in), with the per night rate about SGD430 including taxes and such.
Three nights later, we've got very mixed feelings, with Ling a little less forgiving of the hotel's quirks than I am. Here's the quick run-down of what we felt worked, and what didn't work for us. Starting off with the former:
Very friendly staff. No doubts there. Everywhere, we were greeted warmly. Staff was very responsive too, from the point in which we made the reservation, all the way till check-out.
Very spacious room. So big it almost felt a little empty!
Super-comfortable bed. We actually toyed with the idea of removing the entire bed linen and copying down the brand and model number of the bed, and buying it for our new place!
Very small hotel of just 40 rooms. No screaming kids, no Singapore families pushing and shoving at the buffet spread, no long check-in's like a new condo-launch queue (as compared to the Tripadvisor scathing reviews of Marina Bay Sands' check-in). We took our time at breakfast, enjoying its wonderful spread and the wait staff's amazing hospitality. Someone pointed out too that the the check-in staff was the same person who'd help you with the luggage and the same person who waited your table at the restaurant. We liked it – true multitaskers. We recognized many staff by face (though not their names) by the end of our stay.
Infinity pool all to ourselves.
On the other hand:
Furniture and setting really looks worn. This was noted in many reviews, but I didn't expect it to be this bad. The furniture really looked tired, and truth be told, our Corporate Suite's setting looked drab and almost depressing with those shades of brown. More ambient lighting and wall fixtures would had really spruced the place up.
Bad soundproofing. This was also noted in many reviews, and it's bad. We can hear persons along the corridor, and on several other occasions, sounds of doors slamming, what sounded like furniture moving about, water rushing down pipes etc.
No view. Maybe it was that our Suite was the third floor. But right outside our room was one of those 1940s back alley where we can spot shirtless uncles going about their business of the day. We took one look on the first day and saw enough. The curtains remained closed for the rest of our stay.
Missing a few amenities, e.g. no welcome fruit basket (Ling expected it), no newspaper delivery to the room, no baby toiletries (Capella had a full suite of these and even a baby bathrobe laid out for Hannah). Complimentary mini-bar had gassy drinks; a couple of juices would had been great.
Housekeeping was inconsistent. This was Ling's biggest gripe. Firstly, we'd expected an extra towel to be in the room as we'd indicated that we had a third guest in the room (Hannah), but this wasn't there when we checked in, so we had to call housekeeping for one. On the third day, we returned to discover that housekeeping had removed Hannah's used towel without replacing it. Handtowels were also not replaced on the third day. Used cups weren't cleaned properly. The bed cover was removed and haphazardly thrown into the wardrobe. Right behind the long sofa in the about 20cm gap between its back and the curtains was a lost sofa cushion (all dusty now), and the gap area was terrifically dusty.
And one final incident really struck in our mind. On the third afternoon, a staff member rang our door bell twice fairly briskly, waking up Hannah from her afternoon nap. Before we could get to the door, the staff had already opened it.
Emergency? You could call it that; the staff asked if she could come in to spray the room with insecticide! Oh my. If you were at a hotel where a staff member had to come in to spray insecticide, something is seriously amiss. We declined the offer, only because we were still in the room!
In all; Ling was not impressed. As for myself, I was more disappointed. If it wasn't for the friendly staff and that we had a generally laid-back stay, Naumi Hotel would have rated a three star experience. We really did expect better, since the room rate wasn't that far off from what we paid for at Capella at about a hundred less per night, but this was really not anywhere near a luxurious five star experience. We both agree that this was a four-star, and Ling had to think carefully if it was even at that rating.
Oh well. Next Staycation, I'm going to get us the Mandarin Oriental.=)