November, 2011
now browsing by month
Gleamings from 'Positive Discipline for Preschoolers' Book: Revenge
Out of the four mistaken goals in misbehaviour, i.e. undue attention, misguided power, revenge and assumed inadequacy, we have not observed the last two in Hannah so far. *keeping fingers crossed*
So, this post is especially for you, Matt. :) BTW, I'd be sharing mostly from the book.
The intention of a toddler taking revenge at others is to make them feel as bad as he/she does. Scenario: Mommy had a hectic day and when she returned home and saw that her daughter had messed up the living room by spilling orange juice onto the floor for the umpteenth time, she immediately yelled at her and called her a naughty girl. The mommy cleaned up the mess and declared that the daughter won't get to watch her favourite cartoon programme on TV that evening. Later during bedtime, the daughter refused to let mommy read to her saying, "Don't want mommy! I want daddy!" Mommy felt hurt and discouraged that her own daughter rejected her after all that she has done for her.
Sometimes I reprimand Hannah for unintentional misbehaviour. The most recent incident was her spilling water onto the floor when trying to reach for a new Dora mug left standing on the dining table. She really made quite a mess and my immediate reaction was "Hannah, why did you spill water again!?" and I angrily took the mug away from her hand. She looked remorseful and on the verge of bursting into tears. Thank God I caught myself in the act soon enough and tried to make amends by asking Hannah to fetch a rag to mop up the water and use a calm voice to teach her to ask for permission to touch new things. I recognised that I was partly responsible for the spillage as I should have known better that a new brightly-coloured Dora mug within reach was a big temptation for a curious toddler.
We hope that Hannah wouldn't become the vengeful sort of girl. So far, she always seek to reconcile with us whenever we become angry or upset at her misbehaviour. Her usual approach to reconcile is to stalk the parent and ask to be carried in a teary manner. Another approach for lesser crimes is looking at us with a smile and persuading the parent with "mommy happy…mommy not angry…"
According to the book, we would be motivated to tackle the unpleasant revenge problem if we begin to see that a hurtful child is a hurting child. Instead of responding to the child with punishment, we could choose care and support. The rationale is that if the child is feeling hurt, it does not make sense to make him/her feel worse.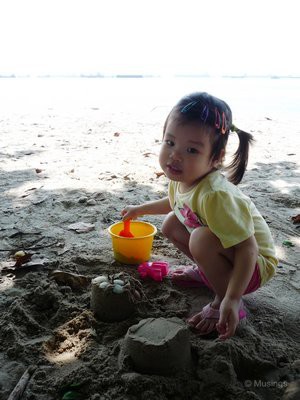 Below are some steps towards reconciliation:
1) Deal with the hurt feelings of the child: Speak to the child that you could see that he/she is feeling very hurt for what you have done. Acknowledging his/her feelings would make him/her felt understood and valued in the family.
2) Apologize if you caused the pain: There are times when a child was really at fault and other times when he/she is only partially at fault. If you have over-reacted or blown it out of proportion, swallowing your pride and admit that adults aren't always right could go a long way. Quoting from the book: "Children are delightfully quick to forgive, and you may discover that the hugs that follow apologies bring you even closer."
3) Listen to your child's feelings: Ask sincere questions to allow your child to articulate his/her feelings verbally or non-verbally (if the child is too young) with body gestures such as nodding. This helps to deepen the sense of trust between parent and child.
4) Make sure the message of love gets through: Telling your child how much you love him/her and how important he/she is to you heals the pain tremendously. Both will become fast pals real soon.
5) Make amends, not excuses: Once the hurt feelings are dealt with, both the parent and the child need to address the problem created in the first place. In the scenario of the spillage of orange juice above, mommy could offer to the daughter a rag to wipe up the spill and assist her in the cleaning.  If the daughter refused and retreated to one corner, the mommy could take this opportunity to teach by kindly cleaning up the mess and wordlessly proceed on with the rest of the evening. This requires patience and role-modeling.
The above strategies are recommended for preschoolers. :)