September, 2011
now browsing by month
Zero Dollar Upgrade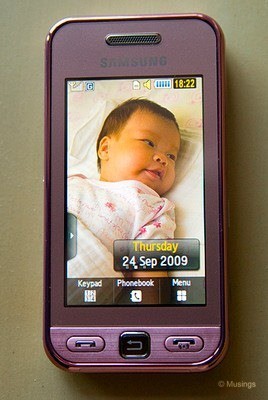 One of the things I most look forward to every couple of years is the renewal of our mobile phone subscriptions, because they invariably mean opportunities to change mobile phones. Yeah it comes with the necessity of having to renew your mobile plan subscription, but given the ubiquitous use of mobile phones here, it's not like as though we can both not take up those subscriptions.
I'd originally intended to include a new mobile phone to Ling's list of birthday presents last week, as her mobile plan is up for renewal. Problem though is that the phone she currently uses is still going on very well, and in terms of color, form factor, cuteness and reliability, her very womanly-pink phone (pictured right) is very hard to beat! Moreover, a new phone of the smartphone class would have required her to change her current voice-only plan to one that enables data, and she figured she doesn't have much use of mobile data at the moment.
So, the hubby gets to enjoy her phone renewal offer from the telco. Given that we've resolved to turn Scrooge for the next several years to pay for our new home, I decided on the cheapest dual-core Android phone that would also be a zero dollar upgrade, and settled on the Motorola Atrix.
There's actually a large range of dual-core Android phones available right now. There's the Motorola Atrix, the LG Optimus 2X, several HTC models, and the Samsung Galaxy S2. And that's not counting the variants capable of 3D. The Samsung Galaxy S2 currently sits, comfortably and with little argument, at the top of its class with its rich-contrast and superb screen, outstanding performance, and fairly good battery life. It also costs a lot of money. If I didn't have debts to pay, that would had been the phone I'd gone for, having very good experience with the phone's predecessor (the Galaxy S). Long story short it was the Atrix, which cost basically nothing after the contract was renewed and also with my existing Galaxy S traded-in.
And I'm really enjoying the phone so far too. It's remarkably faster than the old Galaxy S, better build quality, and has a really nifty fingerprint scanner for phone security that's working very well with my two indexes. The screen has a higher resolution than the S2 but is in itself an obviously lower quality screen in contrast and colors when even compared to the original Galaxy S. So, Hannah looks funny in the wallpaper, compared to the old phone. Moreover, the phone's out speaker is placed in an awkward position, such that when the phone is placed on a flat surface with screen pointing up, audio is muffled. Audio is also a little weak-sounding compared to the Galaxy S too.
Oh well; can't have everything, and I'm certainly not complaining since I essentially got the phone for free. The phone also came with a bunch of freebies; one of which – an optical mouse – is pointless, but the other – a compact bluetooth keyboard – is terrific. Works with the iPad. =)