July, 2011
now browsing by month
Space Battleship Yamato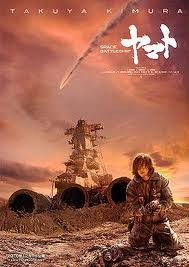 Space Battleship Yamato (2010) – on rental. While Michael Bay's film versions of Transformers have gone from so-so to awful, my basis for comparison laid in watching those films as they were. I didn't grow up on the Transformers cartoons. So, as far as whether the films' were faithful or not to the cartoon series, I really didn't know better.
It's quite a different story though compared to this other recent 1980s cartoon to film adaptation. Back 30 years ago, I was glued to the TV every Monday evening over a series called Star Blazers. This weekly 22 minute cartoon series itself was an English dub of a 1970s Japanese sci-fi series called Space Battleship Yamato. The sci-fiction series told of how the old Yamato super-battleship – sunk ingloriously in a suicide run in the closing days of World War II – gets resurrected as a space battlewagon in Earth's last resort to seek a cure for its dying planet nuclear bombarded by an Alien invasion force.
The series was a huge hit among those of my age for its larger than life characters, wonderful characterization, and its long tale of love, honor and sacrifice. The series was so successful that over the last 30 years spawned several more TV series , anime films, several comic books, and even a set of greatly treasured (and expensive back then) graphic novels that I still own to this day.
I've been looking forward to the series' film adaptation ever since news of it was announced. Never mind that it was going to be the Japanese who was going to make it so (no I'm not impressed with Japanese films as a rule – more on that later). But hey, it's Star Blazers! If they stay true to the spirit of the source, how bad can it be?
Then the first Internet reviews started streaming in late last year, and that long-wait was given the rude shock. The first negative reviews all said the same thing; all glitz but no soul, and the source had been turned on its head if not outright abandoned to large measure. And a just over two hours viewing later, I'm of two minds. If you've never watched the TV series before, this standalone film is still watchable and mildly entertaining. If you've watched the series and remember its general plot arcs, the film is a travesty.
For those of us who didn't follow the SB Yamato/Star Blazers series; the TV show's key characters include Susumu (Derek Wildstar in the English version), the ship's radar specialist and nurse and also his love interest Yuri (Nova), Captain Okita (Captain Avatar), and the ship's navigator Daisuke (Mark Venture). Together and others, they form the Star Force, a band that makes their year long voyage from Earth to the planet Iskandar to retrieve the planet-saving device from Princess Starsha. And throughout their journey is beset by Gamilon alien forces, led by their leader Desslok.
The central problem with this new film adaptation is that while the story in the most general sense remains the same – that it's about that old crusty battleship sailing to Iskander to find a cure – too much else has been changed, unnecessarily, and for worse. Granted; the first season of the TV show had about 10 hours of run length and it would had been a real challenge to squeeze that much material into a two hour film. But there is a crazy number of other things whose change defy reason.
For instance; like how the Gamilons who were humanoids in the several series are now some kind of mechanical-insectoid creatures. Or that the charismatic and unflappable Desslok (who later becomes the Star Force's ally in a later series) is now some weird crystalline Alien who's bereft of any real personality apart from that of a one-note Evil doofus. Or why Yuri – who was in the series a gentle Nightingale to the ship's wounded and also soul of the voyage – is a grunting, temperamentally violent pilot who punches men first and talk later.
And like Wolfgang Petersen's Troy, the film drops the ball in properly presenting the time pressure the voyage faced – a key element of the series' story. The ship and crew took a full year to go and return, suffering through many difficult trials, and barely making it back to Earth in time. In this film, it feels somewhere akin to a weekend traipse to Sentosa and back. There is no tension. And the theme of Samaritans and sacrifice – e.g. how Starsha sent her beloved sister as messenger bearing hope to Earth in a one way trip – is *poof* and gone.
With such large failures of the story telling, the other niggling things in the production don't really matter any more for me. Like the over-acting typical of Japanese productions (everyone seems to scream, yell, or do line proclamations). Or like in Japanese epics, most characters have to die, even if really unnecessary for story progression. Or the cheapo live production sets. Or that the space action scenes – where all the money had gone to at the expense of better production sets – while great in visual design still look pretty CGed. But at least the full orchestra soundtrack's pretty good albeit a little too bombardistic, with the main themes from the cartoon series front and center.
In all; just disappointing. Watch if you're not a fan, or better still just go for the similar yet far better Battlestar Galactica TV film. Skip if you're a fan.