June, 2011
now browsing by month
Re-entering the Kitchen: Crustless, Mushroom & Spinach Quiche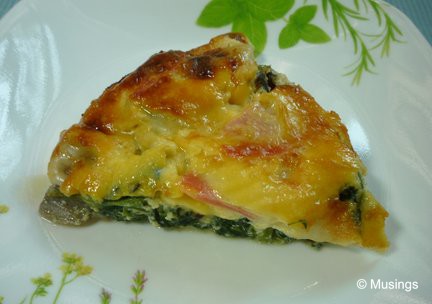 This is definitely one dish which I wanted to do for the longest time.
According to Wikipedia, a quiche (pronounced as ki-sh) is an oven-baked dish made with eggs and milk / cream in a pastry crust. Ingredients such as meat, vegetable and cheese are often added to quiches.
I came across a few recipes that did away with the crust, a great idea as it would free up time for other things. From Joy the Baker's blog, I found one such recipe which appealed to my taste buds. Her recipe could be found here. I made some modifications to her recipe to suit what I had in the refrigerator at the time and also Yang's preference for some meat. Below is the modified recipe.
Ingredients
250 g of spinach (English or Chinese type, I used the Chinese spinach aka 'puay leng'), rinsed thoroughly with tap water & stems trimmed away


Extra virgin olive oil – 2 tbsp

Fresh white button mushrooms – 1 tub / 2 cups, sliced

Garlic – 2 cloves, minced

Salt and pepper

Eggs – 3 large

Ham – 1 slice, broken into small pieces

Half and half – 1 cup (I substituted with 3/4 cup buttermilk & 1/4 cup evaporated milk)

Gruyere (crumbled) + cheddar cheese slices (2, broken into pieces) – makes a total of 1 cup

Butter – for greasing the pie dish
Method
1)         Preheat oven to 190°C.  Butter a 9-inch oven-proof dish and set aside. (You could either use a piece of cling wrap or the back of a spoon to spread the butter on the bottom and the sides of the dish)

2)         Place the spinach in a large pot of boiling water and cook over medium heat just until wilted, about 3 minutes.  Remove from the heat and spoon into a strainer set over a bowl.  Allow to cool.
3)         PRESS HARD on the spinach in the strainer with the back of a spoon to remove most of the moisture, then SQUEEZE in your hands to remove more. Turn out onto a cutting board and coarsely chop. Place between two layers of paper towels or wrap in a clean kitchen towel and PRESS to remove more moisture.  You should have about 1 cup packed spinach. Set aside. (Note: The liquid from the spinach would affect the consistency of the egg custard component of the quiche and you could end up getting a watery egg meal instead.)
4)         Heat the oil in a large skillet over medium heat.  Saute garlic. Add the mushrooms and cook, stirring until tender, about 5 minutes.  Add the spinach and cook, stirring to break up the clumps, until any remaining moisture has evaporated, about 2 minutes.  Remove from heat.  Add a sprinkle of salt (the cheese is salty, so you won't need much) and pepper to taste.
5)         In a large bowl, whisk the eggs until light.  Stir in the buttermilk & evaporated milk mixture.  Spoon the spinach mixture evenly into the buttered dish.  Sprinkle with the cheese and ham.  Pour in the egg mixture.
6)         Bake the quiche until puffed and golden brown, about 35 minutes.  Serve warm, cut into generous wedges.
Yang enjoyed the quiche even though he disliked green leafy vegetables in general :P Hannah had this for dinner as well. She couldn't stop asking for more. It was soft and easy to chew. Except for the slight saltiness, it contained healthy ingredients for a growing toddler. I would try to reduce the saltiness by adjusting the type of cheeses used the next time.