May, 2011
now browsing by month
Sentosa @ June 2011
I wrote in January this year that we were planning to take our first holiday with Hannah in June this year, and the list of potential places included Redang, Phuket, Sabah and Langkawi. After considerations regarding expenditure, the difficulties involved in me taking leave for an extended period of time, and Hannah's needs etc. we decided to try for someplace closer and simpler. Of the two options between Sentosa and Bintan, we decided to go with Sentosa this time round.
Funnily, despite Sentosa being such a popular resort island – among tourists at least anyway – there aren't really that many accommodation options outside the newly opened Resorts World Sentosa. And the latter wasn't really an option for us. The thought of squeezing alongside thousands of other visitors to the Casino and Universal Studios during school holiday season was a non-starter.
The three relatively luxurious hotels outside this are The Sentosa Resort & Spa, Shangri-La's Rasa Sentosa Resort, and Capella Resort Singapore. We've been to the Shangri-La a few times now, and while it enjoys its own secluded beach and is thus directly sea-facing, we've not been quite that impressed with the general environment of that property.
The Sentosa Resort & Spa was a second and real possibility and fairly well-regarded by guests. But for its relatively high room price, we concluded we might as well just go for the property that is regarded by Tripadvisor as the top of its heap on the island – Capella Resort Singapore. The latter has a full '10' score on Hotel.com, 4.5 on Tripadvisor, relatively low number of rooms (i.e. less crowded?), and a very big room for its lowest price rooms even. Ling remarked too that our small group friend Ann had stayed in the same property earlier this year in March, and – outside the relatively high prices for the room and in-hotel dining – had great things to say about her stay.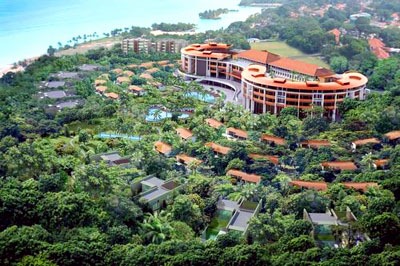 So, one booking later last night; come a few weeks from now, we'll be heading there. More to report on it when the time comes. Pretty nifty Flickr photostream here too of the hotel. =)