February, 2011
now browsing by month
The A-Team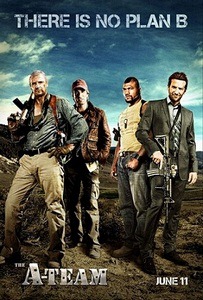 The A-Team (2010). Another '80s TV series that was making its rounds was The A-Team, an action-oriented series based around four ex-military soldiers wrongly accused of a crime, and as escapees from justice taking on mercenary jobs that the normal military or government agencies can't handle. The series was all camp, but it had several iconic elements that continued to stick in the minds of those of us old enough to remember. There's the cigar-chomping Colonel John 'Hannibal' Smith who's favorite refrain was "I love it when a plan comes together!", the mohawked Bosco Albert "B.A." Baracus (played by the then very famous Mr. T), the institutionally-declared insane Murdoch, and smooth talker and conman Templeton 'Face' Peck.
When interest in turning the classic TV-series from three decades ago into a feature film surfaced, there was a lot of online discussion on who'd be playing those iconic characters, especially "B.A" Baracus since the role – as defined by Mr. T – would likely involved an American-African actor of equivalent girth and capable of demonstrating similarly bad attitude. The role eventually went to a professional fighter but relative unknown in filmdom, Quinton Jackson. Complementing him is Liam Neeson in the role of Hannibal, TV actor Bradley Cooper in the role of Peck, and South-African and immensely multi-talented Sharlto Copley as Murdoch. The four are supported by two other relatively well-known faces; Jessica Biel as Captain Sosa, a military investigator who pursues the four when they each escape prison, and Patrick Wilson (last seen in The Watchmen) as Lynch, a CIA agent.
The film version is distinctly multi-act and episodic in structure. The first act sees the team getting formed, the second where they are set up and then accused, tried in military court then incarcerated for a crime they did not commit, and finally the third when they seek to clear their name. While the plot is easy enough to follow, its logic isn't The A-Team strong point. Lots of all too convenient situations. But as Sosa remarks wryly, "They are the best, and they specialize in the ridiculous", and in this regard, the film doesn't disappoint with its action set-pieces. Some of it has already been hinted at in the film's preview trailers, but for those of us who've yet to see those, be prepared to get surprised by them. While they're of Michael's Bay equivalent in terms of audacity, it's still stuff you wouldn't have seen before. There are gags involving attack dogs, flying tanks, a helicopter that's flown like a jet fighter, and 3D glasses.
The individual personalities and character to character relations are front and present too. A running joke throughout the film is Baracus' fear of flying, and that's mined for maximum laughter mileage here. And another one about Templeton Peck's ability to have every woman swooning for him in minutes. Even the one-shots are funny, especially in one scene involving mixed-up passports.
Of the four lead actors, it's Sharlto Copley's "Howling Mad" Murdoch that will leave viewers with the biggest impression. Copley has shown his acting chops playing the mild-mannered company man turned alien in District 9, and in The A-Team, he's insanity personified and steals every scene he's in. Quinton Jackson's Baracus while somewhat looking the part doesn't display a quite sufficient level of angst and aggression. Compared, to the rough and tumble and perpetually scowling Mr. T, Jackson's Baracus is almost like a timid rabbit (partially the fault of the film's story). More serious though is Neeson's Hannibal – just disappointing. The late George Peppard played the character as an unflappable leader, but the Hannibal in the film version sees him demonstrate negative emotions, though to be fair that's the consequence of how the story progresses. That famous line of his fares even poorer – Neeson adds an unwelcome and unnecessary grunt and smirk to "I love it when a plan comes together".
Still, the film got it right for me more than what didn't work. It's a fun two hours ride, with the usual caveat of not thinking too hard about the logic in the script or action scenes. Ling enjoyed the film for sure.:)