I was at an army camp yesterday afternoon for my bi-annual medical check-up to certify Singaporean males past 35 years old whether they're still physically fit to undertake the yearly physical fitness test. I cleared all the stages – but at one stage, the attending medic remarked; "Sir, you've got high blood pressure."
That really pretty much killed the rest of the day and week, though that I've got HBP has not come as a surprise. Since September last year's receipt of new work 'appointments', I've been coming home each night physically weary and emotionally drained. I do not innately enjoy management roles, and even though I've got 7 years of it under my belt before joining my current institution, I still find myself out of my natural element. As I remarked to my own reporting officer, I'm an exemplar of a product coming out of the Singapore education system – I can't think creatively and 'out of the box'. Nor am I especially clever at reading nuances or subtlety in communication. And I absolutely suck at differentiating between being forthright versus exercising discretion on when it's best to hold one's peace. All I can offer is determination, honesty, a good work ethic (hopefully), and an ability to see patterns, rhythm and organization in everything I do, see or hear.
—
I've found joy each night though especially in Hannah. We were at Hougang Mall for a kopitiam dinner again, and while Ling was away to buy and bring back her usual plate of noodles, I took these few pictures of Hannah: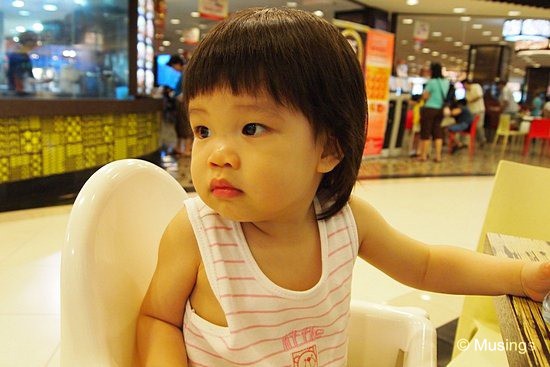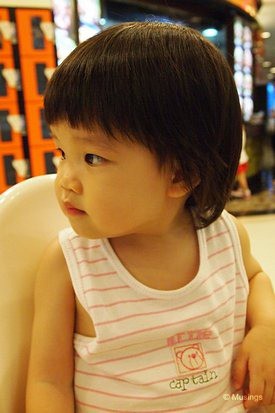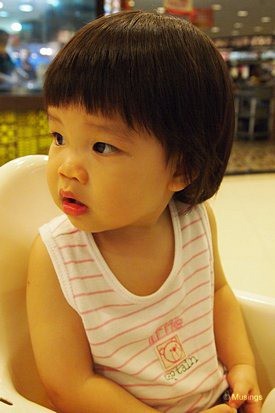 Hannah seemed completely lost in thought again as she gazed at some distant object at kopitiam. But as I watched her, there was again that indescribable sense of having been blessed with a lovely daughter whom we see growing each day, better using her senses and better able to understand the world around her.