November, 2010
now browsing by month
Predators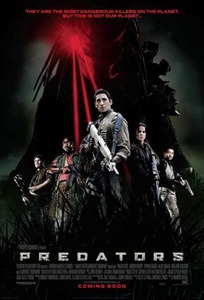 Predators (2010) – on rental. As far as films in the horror sci-fiction genre go, there are really just two iconic franchises – Alien and Predator – out there which while on the surface look very different, share otherwise a lot of similarities. Firstly; humans are fodder, and secondly, their most recent film incarnations were pretty dismal productions compared to the originals.
The newest Predators film is a bit of an odd ball. It's already the fifth film involving those super-killer alien species from outerworld, but like Superman Returns, seems to disregard all the earlier films except for the first one from 1987 starring Arnold Schwarzeneggar.  Even more interesting is the very high degree of homage this new film pays to the original. The film soundtrack from the 1987, composed by Alan Silvestri, is adapted in significant parts by John Debney in the new production – as is also its theme: a bunch of humans are put together, go through the whole story arc of bewilderment to alien discovery to realization to combat and finally resolution, and again set in a tropical rainforest.
One thing that the original film did right was to create effective scenes where you learn about each character and feel at least some degree of empathy when they get offed one by one. The new film features a very varied cast of characters – there's a deathrow inmate, an ex-American elite forces turned mercenary, a Japanese Yakuza member, an RUF soldier, an Israeli Defense Force sniper among others – but while they all look distinct enough from each other, the film pretty much fails on eliciting any kind of sympathy out from you about what they're facing. That pretty much kills the efficacy of the film, because you'd be yawning when they take turns to get killed, shot through, ripped or blown apart by the alien predators.
Even worse still is that Arnold Schwarzenneggar's 'Dutch' all beefy man character has been replaced by very mild looking fellow from The Pianist, i.e. Adrian Brody. No offence to the actor, but if there's an example of horrible casting this year, it's this one. That we are to believe that Brody – who plays a charater name Royce – is an ex-American elite forces turned mercenary is a capital Fail. He tries to pull a Christian Bale grunt and act like an expert and experienced career soldier, but is so already obviously uncomfortable with weapons (just look at the way he handles his automatic rifle in the film). There could had been a whole several dozen other male actors who would had better play the part of the leader of the band trying to survive the alien predators onslaught.
The other major failing, and not entirely through the film's fault, is the humanization of the alien predator. Gone are the earlier films in which there was a sole antagonist who could easily wipe out the entire band of humans without breaking a sweat. Like the Alien vs Predator film, the plot device where humans and predator temporarily ally together shows up again (*groan*), and for a super-species whose entire existence lies around hunting and efficiently killing prey, these predators now aren't very smart or even very good anymore in their trade. They allow themselves to be surprised by grenade-rigged bodies not once but twice, and even lose in a one-on-one sword fight.
And I've not even mentioned the plot failings. Our crew of man-fodder supposedly crash-parachutes into an alien world; but within an hour, they can identify by scientific name plant species of that alien world like back on Earth. Just LOL. Or how is it that Royce seems to know everything there is to know about the planet and the alien species – which might had been a legitimate story device if it'd actually been addressed or answered in the film.
The one saving grace of Predators lies with Lawrence Fishburne's role in the film. Our dear old Morpheus here plays a half-crazed Ben Gunn-esque character. Too bad his role is pretty small, but at least he's fun to watch. His involvement alone gets him a one-star.