October, 2010
now browsing by month
Dell XPS Studio 16 – Notes
The Dell XPS Studio 16 notebook I ordered more than a week ago was actually assembled and shipped to Singapore for local dispatch last Thursday evening; at which point it sat in the warehouse for the weekend before actual delivery on Monday late morning this week.
After having spent nearly a week putting the notebook through its paces, installing the entire suite of software and customizing it to work exactly the way I need it to, my sentiment is almost near totally positive with just one or two minor reservations.
– The screen's color depth, viewing angles, sharpness and resolution are incredible. Easily by far the most impressive notebook screen I've seen in existence, and beats the heck out of any notebook screens coming out anywhere else, including Cupertino.
– That said, things do look a little small on the screen when I keep font sizes at their default settings at 1920×1080 resolution. Sadly inevitable when you cram so many pixels towards a resolution that's really more suitable for 19 inch monitors.
– The notebook came preinstalled with trialware and Dell's own application dock and system diagnostics. Seemed fairly minimalist, but I didn't chance it and went with a complete wipe of the hard disk with the included Windows 7 OS disc. Reinstallation of device drivers and the Dell dock went without hitches.
– The FastAccess facial recognition software works pretty well. Basically, what the application does is to make use of the notebook's built-in video camera to recognize faces and auto-logs into both web sites and into the notebook. There is some initial recognition adjustment, but it's real cool to be able to just look at the notebook and to see it auto login for me.
– The keyboard indeed has no real flex (hooray!) unless I go about trying to press keys real hard. That said, the keypress has a slightly mushy feeling that'll require some adjustment period. Typing isn't quite as light touched as my Macbook Pro, nor as satisfying as my now replaced IBM Thinkpad T60 at work.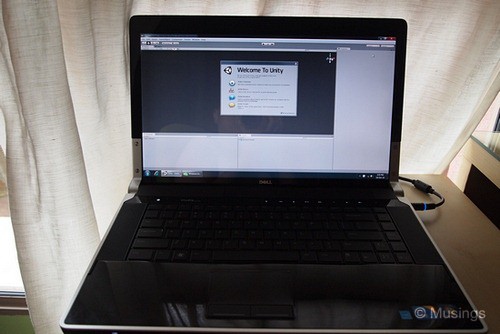 – Built-in speakers' audio output is amazing! I queue up a whole bunch of Haydn piano sonatas and have them playing in the background in my office.
– The glossy chassis and its affinity to finger prints isn't so bad after all. The shade of black use in the chassis does an adequate job of hiding the prints and dirt from routine use, though I still casually do a cloth wipe down now and then.
– Heat was reportedly a concern for this notebook model. So, in preparation I picked up a Zalman notebook cooler for the XPS Studio. The arrangement works great. The notebook's elevated and inclined at a slight angle now and makes for easier typing, and there's a gentle breeze that's produced by the notebook cooler's air vents reaching my palms.
– I would have liked more built-in USB ports. There are two on the left side which I keep free for my portable hard drives, and one eSata/USB port on the right that drives the Zalman cooler. That's maximum utilization. One more built-in USB port would had been nice but at least the two left ports are widely spaced. I'm amazed how Apple engineers could have missed the Macbook Pro's design flaw in placing the two left USB ports so close to each other that they can't be used at the same time, effectively reducing the number of usable ports on it to just one.
So, the Dell's turning out to be quite a productive, mean machine. More notes to come once I've spent more time on it.:)