September, 2010
now browsing by month
Yummy Toddler Foods: Baby Yam and Minced Pork in Brown Rice Porridge
I bought some baby yams at last! I've been wanting to introduce this root veggie to Hannah for some time since she turned one. The flavour of yam in porridge is unique. And like the mother, Hannah took to the taste of yam very well :D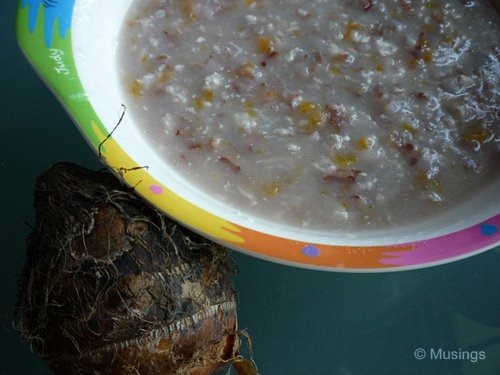 Here's the recipe:
Ingredients
brown rice (1 Chinese soup spoon)
ginger (1 slice)
carrot (1 small stick, peeled and chopped into small chunks)
baby yam (1/3 of a small tuber, peeled and cubed and soaked in water until use)
minced pork fillet (remove fats and mince finely with knife)
hot water (250 ml)
Method
1)  Add washed brown rice grains, ginger, carrots and hot water into the slow cooker and cook on 'high' for 2 hours.
2) At 1.5 hour into cooking, add baby yam cubes into the porridge, cover and continue cooking.
3) When it is 2 hours already, remove all the carrot and yam pieces and place them in the serving bowl.
4) Mash 2-3 carrot chunks and yam pieces with a fork in the serving bowl. Discard the rest of the carrot pieces.
5) Add the minced pork into the porridge and stir well to break up the meat (do this for a few seconds). Switch off the power supply to the slow cooker.
6) Remove the slice of ginger and scoop out the porridge into the bowl with mashed carrot and yam. Stir to mix all the ingredients well.
7) Allow the porridge to cool off a little before feeding the baby :)