July, 2010
now browsing by month
Percy Jackson & the Olympians: The Lightning Thief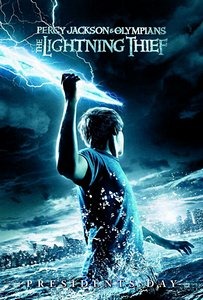 Percy Jackson & the Olympians: The Lightning Thief (2010) – on rental. The story theme of an ordinary boy who finds his destiny among the powerful and fantastic is one that book authors have been mining for years. Several of these book series have been turned into film franchises even. There's been the Harry Potter books, Eragon (absolutely awful film adaption a couple years ago of the first novel though), and now Percy Jackson.
The title character's name, 'Percy Jackson', is actually a play on the name of one of Greek mythology's most well-known heroes, Perseus. In the first book that this new film is based on, two of Olympus' most powerful Gods – Zeus (Sean 'Boromir' Bean LOL) and Poseidon (Kevin McKidd) – are arguing over who has stolen Zeus' prized master bolt. Zeus threatens war in Olympus, and by extension Earth – since there's no chance for computer-generated visual carnage and destruction if it's just war in the clouds – if the bolt isn't returned to him, like real soon.
Percy (Logan Lerman) is the offspring of Poseidon and his earthly mother, Sally (Catherine Keener), and possesses a good measure of Daddy's god powers over water. He's accused of stealing the bolt, and with the assistance of his satyr guardian – Grover played by Brandon T. Jackson (recognized him as Alpa Cino from Tropic Thunder!) – and Annabeth, daughter of the Goddess Athena, and played by Alexandra Daddario – the three set off on a quest to find the real thief and return the bolt to Zeus before all hell breaks loose.
Jackson, Lerman and Daddario
Interestingly, Percy Jackson is the second film already this year that's based off Greek mythology in what seems to be a revived interest in the retelling of stories from the legendary Greek heroes. We've already seen this year's remake of the 1981 Clash of the Titans (reviewed here on our blog), but that film suffered from a horrifically miscast Sam Worthington as a really wooden Perseus and also a too-casual grounding to the mythological source.
Percy Jackson fares a little better. For starters, there's better representation of Greek myth in this new film. There's Medusa (Uma Thurman LOL), the Minotaur and Hydra (both CGed), Chiron the centaur mentor (Pierce Brosnan looking all hairy), Persephone (Rosario Dawson driving up the sexua'o'meter rating and for young boys to gawk at), and their abilities and dispositions are about consistent with lore if only still in the most general sense. Joe Pantoliano even shows up as Percy's foster father, though his role is pretty inconsequential and his talent largely wasted.
And yep, the cast in this film is like a roster of well-known adult actors doing their bit roles in the production, though in a few persons' case they are playing roles that are already familiar. Thurman's Medusa (below) is quite the vamp, but after Poison Ivy in Batman and Robin, she'll easily sleep walk through roles like this.  Steve Coogan has a hoot playing the third person in the trio of Godly brothers, Hades. The actor turns in a Mick Jagger version of the God and his performance seems a nod towards Johnny Depp's Jack Sparrow.
This is what owning an iPhone will do to you.
The Hollywood veterans taking their turns to trot out their God parts are all clearly having fun with the lore and legends, but they're also just supporting players. The three young leads on the other hand – Lerman as Percy, Daddario as Annabeth, and Jackson as Grover – are painful to watch. Lerman's Percy is outright irritating, poor Daddario seems overwhelmed (doesn't help that she can't act), and the normally funny Jackson is given stupid dialog and even dumber subplots, including one about acquiring his satyr horns. It's unfortunate that the three young leads get the lion's share of screen time and things really are despondent when they are running around and trying to act demi-Godly, but things invariably cheer up in the film when the veterans reappear.
The irreverence and humor though does at some level work against the film, if for nothing else it creates oscillation between half-seriousness when the adult veteran actors are in the scene, and that the tomfoolery immediately ceases when the scenes re-center on the three young leads trying to act all serious on their quest to save the world. It's inconsistent and pretty jarring whenever the tone switches.
Still, I enjoyed Percy Jackson marginally more than Clash of the Titans. Even if the story's dumb and the three leads awful, it's still a bit of a guilty pleasure watching great actors having fun in supporting roles like these. Watch, enjoy then forget.:)