June, 2010
now browsing by month
MIT – Out of the World Buildings
MIT isn't a small University. There are 10,000 students on campus – but what's very different is that there are more postgraduate than undergraduate students of about 3:2 ratio. Compared to NTU whose ratio is 2:5, and I'm thinking that it's for this reason among others that MIT is known as one of the best scientific and technological research institutions anywhere, with a large number of its alumni serving as scientific advisers to the US presidents over the decades. One thing NTU though can boast about is the huge land mass it sits on: MIT is compact at 168 acres. NTU is a sprawling 494 acres – more than twice as large; NUS occupies a more modest 370 acres.
Architecturally speaking, the buildings in MIT aren't as gothic looking as say, those of nearby Harvard (which MIT apparently has a quasi-friendly rivalry with by calling them "the other school up the river"). But there still several funky looking buildings that perhaps exemplifies the well-known 'nerd' culture of the 149 year old institution.
Like for instance, the building below: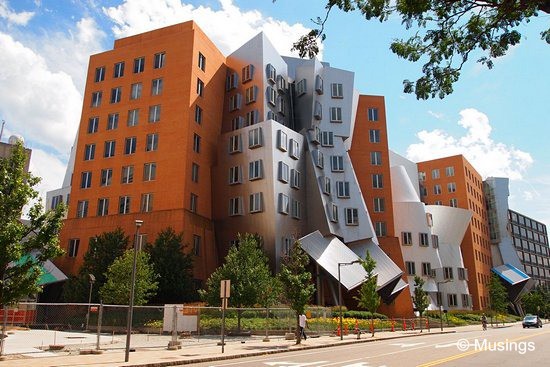 No, there's nothing wrong with the lens – nor did I do any sort of Photoshopping to alter the straight lines you find in normal buildings. That's the Ray and Maria Stata Center, which houses several of the university's computer science, artificial intelligence and information system laboratories. I had a look inside, and its internal floors are indeed pretty wild. It's easy to get lost in the building's unusual shape and odd corners.
Or the building below: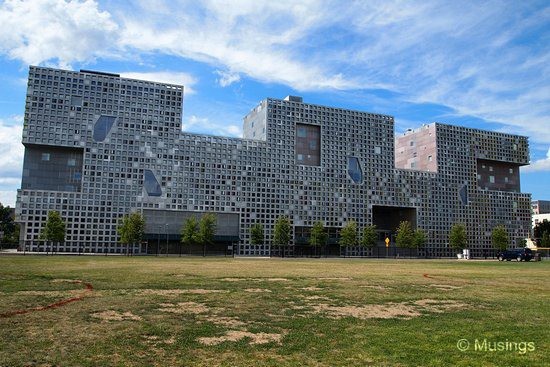 Is that…
1) An alien spaceship
2) A massive beehive
3) A huge silver-colored sponge
4) Or someone who's just completed level 47123124 of a Tetris game?
It's none of the above actually. It's one of MIT's student dormitories, called Simmons Hall. Built at a cost of USD78.5 million, it's 10 floors high, and features 5,500 windows each measuring about 2 feet. The building's supposed to be smart-designed with its window design providing shade in summer, and helping generate heat in winter.
From the outside, it does look pretty damn impressive. However, complaints apparently abound from the students who actually have to live inside it, and they range from poor telephone reception from the way windows frames are designed, to difficulties getting from one spot of the building to another. You know, like some of those old HDB flats in Singapore where to get from one unit to another on the same floor, you have to take a lift down to a corridor floor, cross it, take another lift to the other floor etc.
And the below is a HUGE brick and brown building that runs along Massachusetts Avenue. Big enough to have required several panoramic frames stitched together. When I walked past it, I thought this was some kind of prison cell, with its iron grill windows and foreboding look. Or maybe it's a massive warehouse storing several BattleMechs!
But take a look at the titles mounted on the length of its brick wall: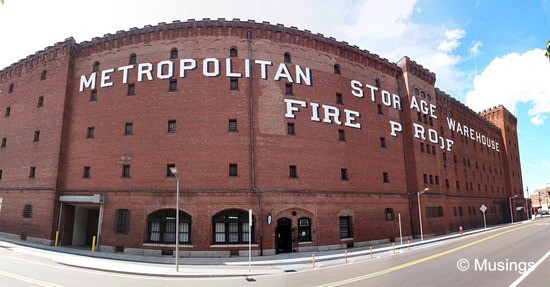 It's a fireproof warehouse, and it's been in operation for the last 90 years.:)
And lastly; the building below is pretty modernistic, and at least more conventional than the above two: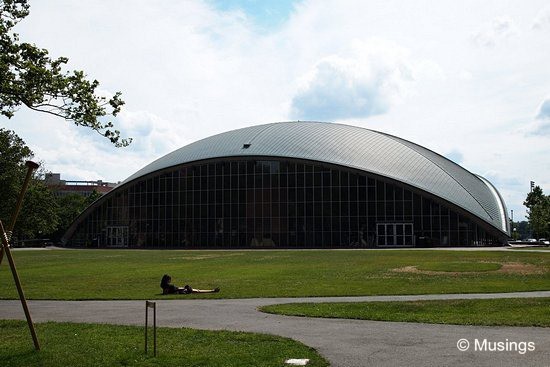 It's the Kresge Auditorium, which is used by the university for its formal events. The lawn in front of it seems to be a popular leisure spot, with many persons reading, resting or just hanging out there.
Oh yeah; these pictures were all taken in mid-afternoon after an exceptionally heavy lunch. Had to walk off all those calories from the American-sized portions you get for meals here! :)