May, 2010
now browsing by month
Contact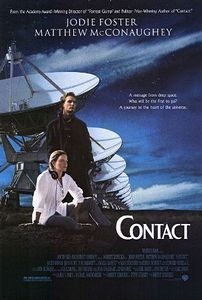 Contact (1997) – on HD. As much as I enjoy space operatic sci-fiction films and TV series, it's the sci-fi films that tries to be more rooted in science than fiction that fascinate the both of us at home. It's not just that the entire proceedings of the film tend towards realism – e.g. modern advances taken to the next level – but you also beef up your awareness of knowledge in a general sense by watching them. Over the most recent years, there's been Sunshine (Ling loved this film – might blog about it sometime), and before that the pair of Mars exploration films at the turn of the century: Red Planet, and Mission to Mars.
The more science than fiction film that has left me with the biggest impression though dates further back than that to 1997: and it's Robert Zemeckis' Contact, starring Jodie Foster and Matthew McConaughey. I first watched Contact on a DVD I picked up nearly 12 years ago, and recently did again on Blu-ray. It was a great pleasure returning to the film on high definition.
The story: Jodie Foster plays Dr. Eleanor Arroway, a slightly socially awkward but brilliant scientist who has devoted her entire life to a pursuit many of her peers consider career suicide: the Search for Extra-Terrestrial Intelligence by listening to radio transmissions broadcasted on huge antenna arrays. Early on in the film, her project – already receiving limited support – gets its funding pipeline completely pulled by governmental agencies. Temporary rescue comes in the form of a reclusive and eccentric billionaire-philanthropist, S. R. Hadden (John Hurt).
Listening for little green men.
But just as she is again forced out of the project by governmental forces, she receives a data transmission from beyond Earth. The data transmission involves the construction of a massive transportation device that apparently creates wormholes from Earth to another galaxy. All of a sudden, everyone – including her superior, David Drumlin (Tom Skerritt), who once scoffed at her research – all want in, and they even take credit for her hard work and discovery. That starts a tussle over who gets to go make first contact, even if the mission is likely to be one-way and suicidal. McConaughey plays the romantic interest and religious scholar who has to make hard decisions balancing his concern for Arroway and her fearless determination to make first contact: especially when she believes that the expense of a single human life (hers) is worth the endeavor.
—
There are a couple of really standout themes present in the film: one is the discovery of life out there, and very nicely the story doesn't fall into the kind of American-dominant trapping that's common in other alien-encounter sci-fi films. The construction of the transportation device is an international effort, and the film's story clearly establishes it to be so.
The other theme though is the one that has left the deepest impression on me: and it's the connection between religion and science. The story establishes early on that Arroway is an atheist who questions the existence of God, and who has always believed in the strength of science and fact as opposed to a belief in the divine. Sort of like a Dana Scully. But when she returns from the alien encounter back to Earth without any proof of the encounter, she finds herself doubted and her experience disregarded by her peers. In tears before the investigation committee who believes that mankind has just been put through the most expensive and elaborate hoax of all time, she argues for faith in what she has seen and heard. It's a terrifically powerful and moving scene.
Very nicely too: there are no real 'bad' guys in the film. Drumlin is motivated and gets on the project for his own interests, but the film also gives him a sympathetic portrayal. Credit especially goes to Skerritt for not hamming it up but presenting Drumlin as an experienced scientist but also equally astute political navigator.
It's an awful waste of space if we're the only sentient beings in the universe. 
The 153 minute film is an adaptation of a book of the same name by famed astrophysicist and astronomer, Carl Sagan. When you've got someone as eminently respected as Sagan as the source who himself adopted his own book for the film involved, you can bet your bottom dollar that the end result is going to be a story that's grounded in reality.
As it turned out, the film is great in its pacing and realistic story development for the first two hours, but is also hurt by the eventual encounter with extraterrestrial beings at the film's climax. I've not read the source novel, but the film itself seemed to struggle with how it should present the encounter onscreen. I suppose that the scene feels awkward and out of sync with the rest of the film is unavoidable – how else would you present an alien encounter in a film rooted in realism. Also, while the story's events state that years pass from the film's start to its end, time feels compressed and the transitions between significant developments from one to the next isn't as smooth as it might had been.
Still, the film extends a powerful emotional draw from viewers through its compelling and balanced characters (you'd be cheering for Arroway), great performances from the lead cast and a lovely soundtrack from Alan Silvestri who had just a few years prior, wrote music of the same style for Forrest Gump. The film's main theme is played on the piano, and it's a beautifully lyrical song.
Very highly recommended for persons with even the slightest interest in science or even religion, or who like their sci-fiction films intelligent and without big transforming robots, Star Destroyers, and lightsabers.