Back in early 2003 I was in the starting stages of my doctoral degree program and still figuring out the areas I could get into, one work I read was on video game addiction. The short paper by a Canadian student struck me – because at that point, the general consensus of video game addiction was pretty all negativism. But the paper instead questioned the basis in which MMOGs were being labeled as addictive substances. I wrote the thesis' author to see if I could get a copy of her complete dissertation, and in the years subsequent to that, kept in occasional communication with her.
It's funny then how things turn, because more than 7 years later, we finally get to say 'hi' not on email. Florence, now a researcher and also Ph.D student herself at Simon Fraser University, continued to remained in contact but this is really the first time we're meeting. She's here in Singapore for our Little Red Dot's segment of a five-country trip to study play behavior in cultural contexts. She reads our blog, and from the entries here, even when meeting Ling for the first time said it was like she already knew us.:)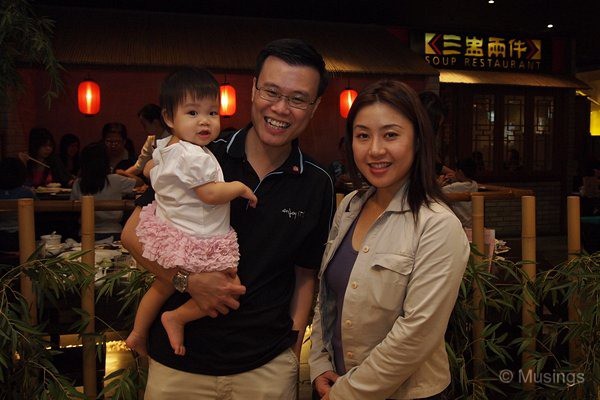 The four of us (with Hannah!) went for dinner at Hougang Mall; got ourselves stuffed with cuisine there. Ling took the picture above for us; it was just delightful to see Hannah take to 'aunt' Florence like they were old friends like with Daddy!