March, 2010
now browsing by month
Another visit to the PD
Hannah has been down with a mild runny nose for two weeks now, and it's been causing her to be more irritable than usual with the two main effects centered on more wailing for attention, and also somewhat harder feeds. We were hoping to see if she could recover on her own, but after waiting for a fortnight, we gave up and hit her clinic this morning to see her pediatrician again. Yep, those crazy long waits.
The clinic opens at 0900, but Ling wanted to get there early. As we were talking out of the door at 0810, I asked, "So what are the chances that there'll be already a queue forming already at 0830?", and Ling sighed "Most likely."
And sure enough, Singaporeans being Singaporeans – when we got to the clinic at 0825, there was already a queue! Singaporeans line up to get their HDB, their condo, tickets to NDP, Primary 1 registration, bak kwa – why should lining up to see a doctor be any different. We got a queue number when the clinic opened its doors, then headed to Long John Silver for a family brunch before returning to the clinic to wait till our turn.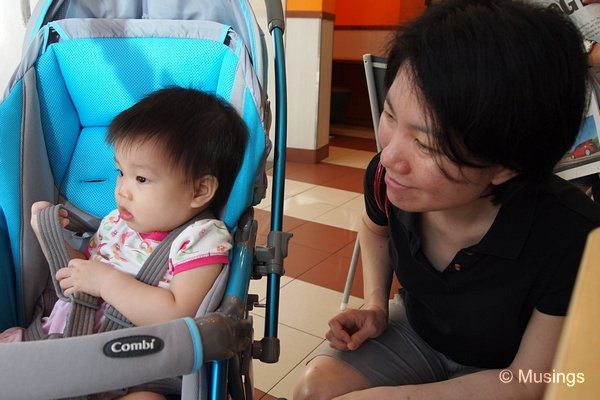 By the time it got to about ten, there must had been at least seven or eight babies and kids with accompanying adults (mothers, mothers-in-laws, dads, mommies, home helpers, confinement nannies) crowded in the space all waiting their turn. With all the toys around the area and colorful decor, you get this feeling that there really isn't a well-defined line between a infant care center and a children clinic anymore.
Anyhows, our turn finally came at 1015. Hannah always gets great care from her pediatrician – this occasion was no different, and as always the PD answered Ling's questions on baby care with the right amount of detail and actionable things to do. The last time the picture of Hannah with her doctor too didn't turn out so well from Ling's Panasonic DMC-LZ8. This time Daddy was present and armed with a better camera and new toy: and the pictures turned out sooooo much better.:)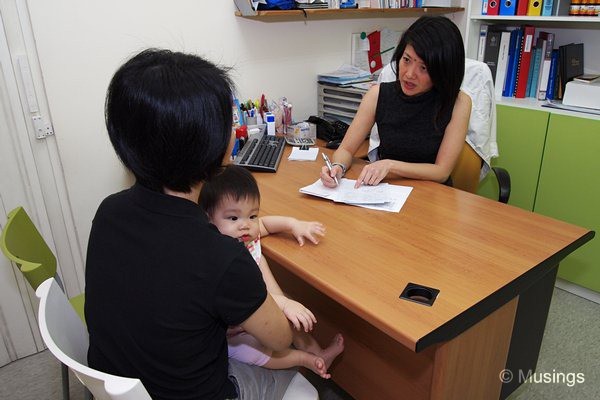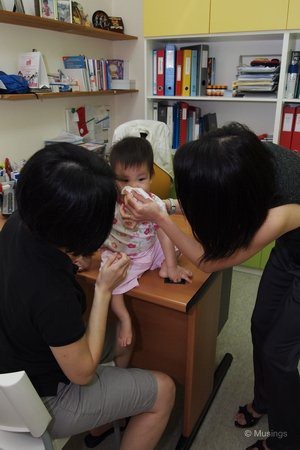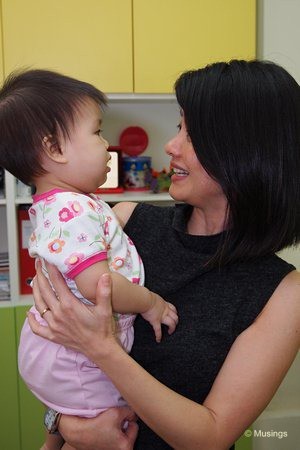 Apparently our little tot's runny nose was likely caused by an infection, which we suspect she picked up during that swimming event just over 2 weeks ago. Hannah was supremely well-behaved during the visit too – though she just wouldn't look into the E-PL1.:)