January, 2010
now browsing by month
Entrapment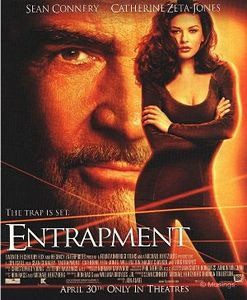 Entrapment (1999) – on rental. There aren't a lot of Hollywood films that have large scenes shot in South-East Asia, with just a few I can think off my head: Anna and the King starring Jodie Foster and Chow Yuen-Fatt who struggled with English in the 1999 film, and the just awful Bangkok Dangerous starring Nicholas Cage from last year.
There was another that was widely reported in media 10 years ago: Entrapment starring Sean Connery and Catherine Zeta-Jones, and it was well-known for two things: that the film's climatic last scenes were shot on location at Kuala Lumpur's Petronas Towers, and Zeta-Jones has that now widely-parodied scene where she bends her voluptuous body to avoid laser beam detectors. The film was a publicity coup for our neighbors up north, since the concrete and steel superstructure had just been constructed then, and what better way to show off the then world's tallest building then than in a Hollywood film?
Sean Connery plays Mac, an art thief who specializes in sophisticated capers stealing the world's most famous artworks for his private collection. Opposing him is Catherine Zeta-Jones who plays Gin, an insurance investigator who hooks up with Mac pretending to also be a master thief while reporting his plans back to her superiors. The two go on several heists together before they play cat and mouse with law enforcement on the highest floors of the Petronas Towers.
It's a pity that putting aside Entrapment's spectacular location, the film itself just wasn't very good. Just three years separated The Rock and Entrapment, but while Sean Connery was all energetic in the former, in Entrapment, he's lethargic. I was actually afraid for the poor guy as he tries to run, crawl, and tip toe to the next building on a metal wire hundreds of meters above ground. As for Zeta-Jones, she sure is deliciously yummy to look at. But despite the supposed experience and expertise of her character Gin, what we get instead is a Gin who pouts, switches to tantrum mode in one scene, and in another looks like she's about to burst into tears. This is the sort of character you'd expect from an 18 year old – not a seasoned insurance investigator character.
Even worst though was the character engagement between the two leads that made the both of us – actually Ling especially – cringe. Zeta-Jones was 30 years old when the film was made, while Connery was an ancient 69. When you have a 39 year gap between the two leads, the last thing you'd expect out of the script is any whiff of sexual tension – but believe it or not, you'll find it in Entrapment! Every time the two look like they're about to gush their feelings or smooch, the letters D O M screeched out loud in both our minds.
I'm just glad that at least this aspect of their relationship as fellow thieves is somewhat underplayed in the film. There is no make-out scene, thankfully – but there is that one scene where Mac ogles, whoops, interrogates Gin about her intentions while she has no clothes on. But things would had been so much better if the script had stuck only to a father-daughter type of relationship as befitting their relative ages.
And if the hair-raising characterization weren't bad enough, the action-heist pieces were just dull, unless you think the titillating scenes of Zeta-Jones bending her body like Beckham in this film is sufficient to rid yourself off the awful stink off the rest of it.The one saving grace is Ving Rhames channeling the same role he did in the three Mission Impossible films with Tom Cruise, but he's criminally underused in Entrapment showing up only in a couple of short scenes.
Avoid.