January, 2010
now browsing by month
Uptown Girls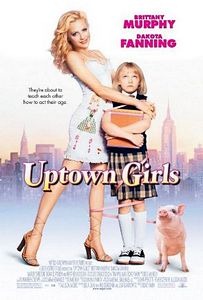 Uptown Girls (2003) – on rental. My interest in Brittany Murphy's comedies and dramas got revived after watching Just Married the other day. The late actress was pretty productive with a long list of films, several of which I've queued up on DVD rental. Uptown Girls was made in the same year as Just Married, and I actually have an impression of this film though I didn't catch it then at the theater, that came by way of Dakota Fanning's involvement in this comedy-drama.
Murphy plays Molly, a well-off socialite living off the fame and inheritance of her rock legend father. She's socially adept, claiming the Dalai Lama as one of her character references even, but is otherwise bimbo-ish, and almost child-like despite her age. Fanning on the other hand plays Ray, the only daughter of a mother (Heather Locklear) who's never home and dad whose bedridden in a coma at home.
Ray's family is wealthy, but she's also largely neglected by her mother who showers her with expensive luxuries but otherwise doesn't spend time with her. That's turned her bitterly cynical, though she's also brilliant and wise beyond her years.
The two cross paths when Molly's financial manager to whom she's relied on for everything disappears along with most of her wealth. She's forced to seek employment, and eventually lands one as Ray's nanny. The rest of the film explores their relationship: an adult with the aptitude of a child, and a child with the aptitude of an adult.
About casting choices: Murphy fits Molly's character well enough, though I can think of other actresses who can play as well the ditzy, wide-eyed, carefree: Cameron Diaz, anyone? Fanning though is the actress who's playing a character slightly out of her usual element. Ray's outspoken and intelligent, like the other roles Fanning had played up to that point. But in Uptown Girls, she's also brimming with sarcasm, and displays open animosity and disgust against Molly. When the latter asks if Ray has ever seen a shrink, she bites back "Since I was three". It's to Fanning's credit that even though Ray's bitchy – and bear in mind she plays a 9 year old – the character isn't dislikable.
Much of the film smartly centers on the two's relationship and engagement. The early setup scenes explores Molly's newfound relationship with an up and coming rock singer, Neal (Jesse Spencer, left in the picture), and are a little slow, but the film picks up noticeably when Ray becomes Molly's employer. The scenes they both share from that point progressively reveals bit by bit why they are the way they are. There's a touching scene at about midpoint where an adult Molly is in tears over boyfriend depression, and it's the young Ray who ends up having to comfort her. Quite the reversal of roles! Nicely too is that their antagonism isn't resolved until very late in the film so there's a nice build-up to the film's final outcome, and it isn't a perfectly happy ending either.
Of the supporting cast, besides Locklear, the other instantly familiar face for me was Donald Faison (right). I wonder if Ling recognized him though: Faison played Dr. Chris Turk in the 'Scrubs' series that we spent so many evenings in the last couple of years watching.
So, a little uneven at the start, but otherwise a thoughtful drama with light comedy. Watch especially if you're interested in the two actresses.:)