December, 2009
now browsing by month
Braveheart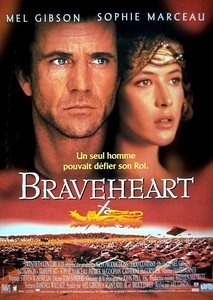 Braveheart (1995) on HD. I've blogged here briefly about this 1995 film directed, produced and lead-acted by Mel Gibson before. But after recently acquiring the Blu-ray disc for it and watching it again with Ling, decided to do a longer reflection entry on the film.
I first caught the film at the old Cathay cinema near Plaza Singapura just after graduation nearly 15 years ago alongside two of my also recently graduated friends, and at that point had heard nothing about this film nor seen any of its previews or trailers.
And was I in for a surprise. 3 hours later and after I emerged from the theatre, alongside Saving Private Ryan which followed years after, I still don't think there's been a film that's moved me so much. And since that point, I've seen the film another two times on the big screen, owned it on VHS then DVD and now finally on high definition.
The film is based on historical characters and loosely on significant events regarding the efforts of 13th century Scotland to free itself from English rule. In 1280, Scotland is ruled with an iron fist by King Edward I who's brutally crushed all resistance. A young commoner, William Wallace (Gibson), upon losing his father and brother in one such encounter, is adopted by his uncle Argyle (Brian Cox). He returns decades later an educated man who wants nothing more than to marry his sweetheart, Murron (Catherine McCormack), and live a life of peace. Murron however is tragically executed by the local English lord when his men tries to rape her, enraging Wallace who takes to arms – and eventually starts an open revolt against English rule.
Like Gladiator, the other big Sword and Sandal epic that followed 5 years after Braveheart, both films aren't really revenge-films. Gladiator – despite all the big battle and violent action set pieces – was fundamentally a film about a man returning home to his dead family in the most literal sense. Likewise, while there's a lot of violence in Braveheart, this film is fundamentally a love story – not just about Wallace's love for his wife, but also for his country whom he continues to fight for even after he is betrayed.
Unlike Gladiator however, Braveheart was made at a time when computer-generated visuals weren't still quite the norm. So, the visuals you see on the screen is exactly what it is. The film was shot on location in Scotland and the big battle scenes in neighboring Ireland (whose army apparently supplied many of the thousands of extras needed for these huge scenes). The vistas of northern United Kingdom are so stunning that Ling now wants to visit the country too LOL.
At the point of the film's production, Mel Gibson was already a well-known actor from his role of Martin Riggs in the Lethal Weapon series – but this was his first time directing a period film of this size. There was a substantial amount of risk involved, coming both many of the production's difficulties – including the physical environment they were shooting in, and that epics of this type had not been in fashion for decades.
But his output surprised many not just for the beautiful visuals and climatic action sequences he coaxed out of his crew – but also for his role as the lead protagonist, Wallace, in his transformation from a commoner to Scotland's Guardian leading her armies against overwhelming odds against the English in their fight for freedom. Then there's the amazing cinematography. I don't think there's been deliberate slow-motion scenes that have worked as well as those in this film. And composer James Horner's soundtrack that accompanied the film's tender moments – the music is for me Horner's best work anywhere.
And most of all: the story and its characters. While the film doesn't shy away from portraying on screen the sheer brutality of medieval-styled battles (think decapitations and amputations aplenty), it's the film's dramatic moments that you will be deeply moved by and remember at the film's end, and there are so many. The early scene where a young Wallace upon losing his family is comforted by an even younger Murron is one of the most powerful scenes I've seen on celluloid anywhere, and made the more amazing given the very young age of both actors involved. Or the latter scenes where the two rekindle their love. And Wallace's death is deeply moving as right till the end, he refuses to yield to English rule.
Surprisingly too, the film won just five of the ten academy awards it was nominated for that year, but thankfully the most important ones: Best Picture and Best Director. The film has also been criticized for its historical inaccuracies based on what little is known about that period, which in a few spots would had been outright scandalous if true. But the film is today recognized for its importance: it generated an immense interest in Scotland's history and fight for its independence not just internationally but also from within.
Braveheart is highly appraised on IMDB, with some remarking that it's the best film ever made. Myself: I've seen all the Academy Awards' Best Pictures in the last 20 years now, several multiple times. Of the lot, as great as films like Slumdog Millionaire, The Departed, Million Dollar Baby, Schindler's List, ROTK… heck, even the overtly romantic love story winners like Titanic, Shakespeare in Love, The English Patient – none of them have moved me the same way that Braveheart did 15 years ago, and still does now.
Very highly recommended: and I don't think you'd be able to watch this film without shedding tears. Get ready the kleenex! :)