Echoing from my other blog.
After completing Dragon Age Origins (DAO) a weekend ago, I decided to try BioWare's other RPG – Mass Effect – just before this one too. This sci-fiction RPG was in the news in Singapore last year when it was banned from sale here for a short period of time as there was an adult make-out scene involving the player's character with another character.
Truth be told, there's nothing in that very short scene that you don't already see on screen in theatrical films here, so I don't quite understand what the fuss was about. In any case, the game was eventually made available here under the M18 rating.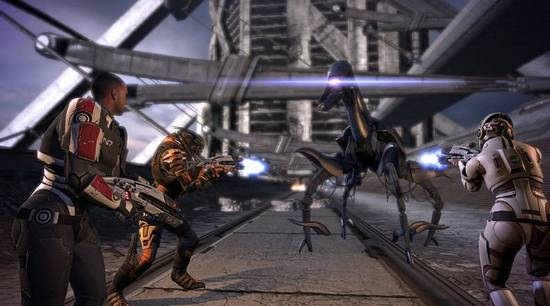 As with DAO and the numerous other very successful CRPGs that's come out of BioWare, there's a complex story in Mass Effect with lots of twists and turns and supplemented with great voice-acting. The story is also refreshingly different from the typical space-operas that you see in games of this sort. Specifically, in Mass Effect, humans aren't the center of the universe, and are only the most recent newcomers to intergalactic politicking. There are already well-entrenched alien species, several of whom form a galactic council that is also almost distrusting and resentful of the human endeavors to join that council and better stake human interests.
Mixed into the lot is also a secretive and elite – no surprise – unit of operatives who undertake missions that work outside the law and can never be officially sanctioned by said council. This group of operatives is known as the Spectres, and when one of its operatives turn rogue and seek to bring back a genocidal species of aliens, the player character is invited to join the Spectres group and tasked to eliminate the threat.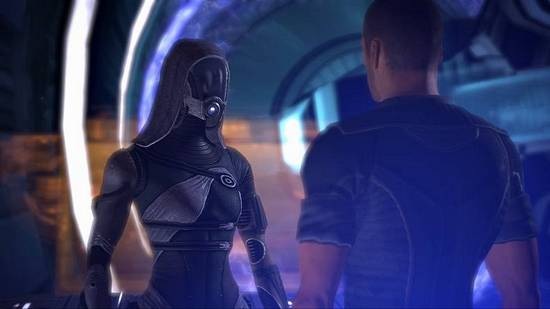 That's a capsule version of the story in Mass Effect, and like the other BioWare games before and after this one, conversations and dialog trees form a good part of the story-telling. Each of the characters that can join the player's party of three come from different species, have different specializations and strengths, and each have unique personality dispositions and back stories. The superb character to character and at times mutually antagonistic relationships in DAO is absent here though, but the player character through conversation options can steer selected companions towards romantic relationships, possibly eventually leading to the aforementioned make-out scene with one of them.
There's also plenty of character progression and customization for players to get into, and they are centered around three classes: pure combative, biological and technological, with each having its own unique perks and skill sets that players can spend talent points in. For instance, I chose the 'Soldier' class for my first play through, and directed most of my points towards assault rifles, first aid and the remaining towards character conversational skills that in turn opened up more dialog options.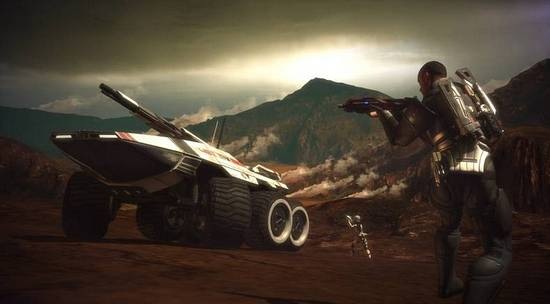 Visually, the game's a mixed bag even upon giving tolerance on account of the game being nearly 2 years old for its console version. A lot of work had gone into facial animation and textures, with good lip sync to the spoken dialog. But textures elsewhere range from just alright to outright poor, for example in the character uniforms that you'd notice. Art design fares better: it's top notch with aliens looking suitably out of the world though a couple look suspiciously like denizens of the Mos Eisley's Cantina, and the stealth cruiser Normandy – where the player will spend a good amount of time as commander – looks futuristic and splendid with its numerous compartments, and background characters as they go about running the ship.
A minor gripe though: most of the alien species speak like humans and outside one species' instance, there's no suggestion that there's some sort of universal translator device at work. So, there're a lot of scenes where you'd be dialoging with an obviously alien creature but who speaks with like a New Yorker LOL.
Still, Mass Effect is a refreshing RPG from the more common high fantasy-esque type, with a well-realized fictional world that you can get immersed into. The second game in the projected trilogy will also be released early next year.
(Pictures from Gamespot)