August, 2009
now browsing by month
Lonely Planet: Wildlife Travel Photography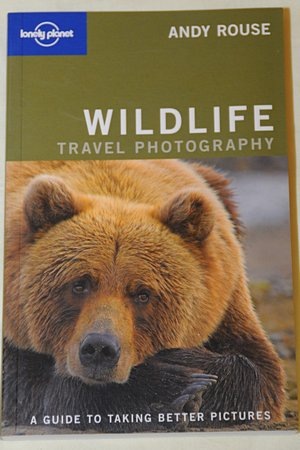 I finally set aside some time over Sunday evening to begin reading the second of two photography books I'd bought from Kinokuniya during the 20% members discount a week ago.
Lonely Planet has a couple of photography-theme books. I like them for a few reasons: they're slightly cheaper than similar books from other publishers, the pictures in them are invariably annotated (more on this later), and most importantly – the books are novel sized. As much as I enjoy reading Tom Ang's How to Photograph Absolutely Everything, hard cover books of that size just aren't much fun bringing around to read when I'm eating dinner alone at Kopitiam.
I found Wildlife Travel Photography by Andy Rouse a good read. The author has certainly traveled widely, and the book is broken down into many chapters, and then into bite-sized sections. Not essay-like like Joe McNally's The Hotshoe Diaries whose author uses a writing style that doesn't appeal to me.
All the pictures in this book are annotated with equipment identified: the SLR and the lens used, alongside shutter speed, aperture, and ISO settings. What I like even the more was that the annotations also note the location where the picture was taken, and the full name of the animal or critter in the picture.
The little descriptions finally also include the author's explanations of challenges he faced in taking each picture and how he got through them. Some of those anecdotes elicited chuckles from me, like one picture he took in which his subjects – inquisitive wild dogs at a South African private game reserve – bit the DSLR he'd mounted to take remote-trigged pictures, leaving teeth marks on the wireless transmitter unit.
That said, there's also lame humor, as though Rouse is trying hard to be cute when writing. E.g. when describing the usefulness of angle finders, he says
"It (an angle finder) allows the camera to be flat on the ground without you having to be, which is great for those tuxedo-wearing photographers out there."
Duh. The humor works better when it's part of a situation he encountered taking pictures.
I've got a couple of other little gripes I'll make a mention here.
Firstly, there's some incongruity between the book's intended audience and the kind of equipment that non-professionals are likely to use. Rouse makes no bones about the value of expensive glass. Ok I get that; but not everyone has the moola to own a 500mm f4 – which costs a very cool USD5.8K. If this book is written with advice and ideas pitched at entry-level enthusiasts, then I think the author should have provided more material advising non-professionals how best to maximise their consumer-grade equipment to take the best pictures. Like what Tom Ang did in his Absolutely Everything book.
Secondly, the book was published 3 years ago, and there's a bit of information in it that isn't as correct as it once was. Not the author's fault of course though. But still… for instance, Rouse discourages the use of laptops for field use and makes a pitch for portable photo storage devices.
But 2006 was before netbooks came about, which has made photo storage devices look so yesteryear. Netbooks are cheaper, have better and larger displays, bigger storage space, potential photo-editing abilities, better battery life – and most importantly, don't cost an arm and a leg. Just take a look at the Epson P-7000 photostorage device. It costs USD740. For that money, you could get two netbooks that can do everything the P-7000 does, and better too.
—
Still, I'm happy with this purchase, considering that it costs just SGD24 for a good read that I can bring along with me. I've got another Lonely Planet photography book on order, and this time it's the new edition of Richard I'Anson's Travel Photography. Hopefully the next one's just as good.