May, 2009
now browsing by month
Terminator Salvation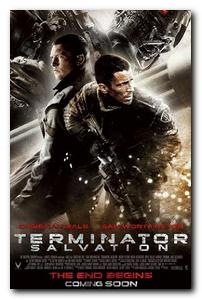 Terminator Salvation (2009). If I had to use one word to describe the new Terminator movie, it'd be this: disappointing. McG's continuation of the Terminator franchise has created a loud and noisy movie that's more thunder than lightning. This film feels like Transformers 1.5 than Terminator 4.
The inclusion of those scary metal robots which can single-handedly wipe out a full station's roster of law enforcement officers is entirely coincidental in Salvation. Aside from three supposedly familiar characters – Kyle Reese, John Connor, and the T-800 with Arnuld's likeness showing up late in the film – and some references that if Reese doesn't survive Connor wouldn't, you could had replace the evil machine protagonists in Salvation with generic stock newly created aliens and no one would had been able to tell the difference.
Bluntly put: this isn't a Terminator movie. It's generic sci-fiction and lazy film-making.
My other huge gripe for the film would be that the overarching plot fails logic 101. If Skynet's overall plan was to terminate John Connor, why did it bother even with the infiltration unit? Wouldn't it had been much easier to just have the the Terminator Infiltrator kill Connor the instant he got the opportunity? Better still, kill Kyle Reese and therefore make it altogether impossible for Connor to have ever existed in the time-line.
But hell no – that would mean the show would have ended at about the hour mark and 25th minute mark respectively for the movie's already relatively short running length of under 2 hours.
And what's with that video control room, at the top of Skynet's tower…? You mean machines need that Apple storefront-likeness to work out their plans for world domination?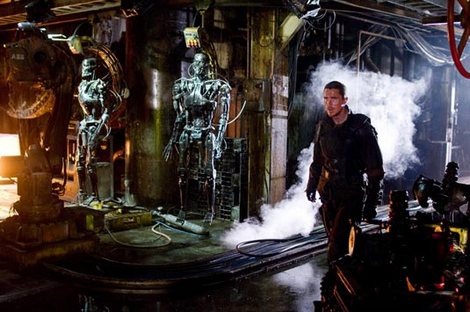 The apparent 'little' nods to the existing films that McG inserted as Easter Eggs elicited more groans than chuckles. The "Come with me if you want to live" and "I'll be back" just sounded forced. At least the T-800's appearance with Arnuld's face CGed onto it brought a few smiles.
And talking about dialog howlers. Parachuted A-10 pilot Blair Williams nuzzles up to the Marcus and says "I need body heat" and looks all comfy. Maybe the new Infiltrator bots carry with them built-in body warmers.
Well at least the visuals looked pretty OK, though nothing especially fantastic when you consider that USD200 million had been spent on it. You would had expected something better.
And when the film's epilogue with Christian Bale's almost bored voice that one battle has been won but the war continues, you'd arrived at the inevitable conclusion: that this film and the destruction of the factory in the ongoing war between machines and humans has achieved… nothing.
Lastly, the film's PG13 – which is problematic in itself. For a film that's supposed to be about unstoppable human-killing machines called 'Terminate-ors', the film really is quite tame with minimal gore, blood and guts.
Watchable on the overall, but just not your Terminator movie, or even a good movie.