'Jia xiang' (Mandarin) is the equivalent of hometown, and 'mee' (Hokkian) means noodle. There you have it, a noodles' dish from the hometown of Sarawak (Malaysia).
Yang and I went down to Compass Point for dinner on Tuesday evening. There was a newly opened food outlet by the name of 'Jia Xiang Mee'. We decided to give it a shot since Yang's friend raved about the noodles. Prior to this visit, I have already tried this dish at Marina Square and wasn't impressed at all. Since Yang hadn't tasted it, I suggested that we have our dinner there.
The 'humblest' full meal (which is just a bowl of Jia Xiang Mee) costs $6.50. Both of us ordered this item on the menu (hey, got recession mah). When we were served, Yang commented that he would need to top up his stomach with buns from a bakery later. Hee hee. :)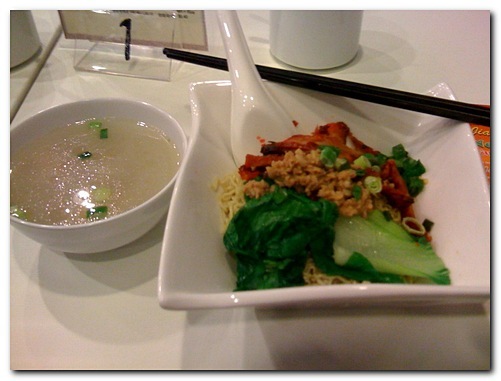 I suspect that the folks from Sarawak will go nostalgic over the taste of their hometown dish but other than that, I still don't see what's the big deal over this wanton mee-aka-jia xiang mee. It is plain that the bowl of noodles we ate was another version of the Chinese wanton mee.
On the dried noodles were sliced BBQ pork and this bowl was accompanied by another bowl of wantons and prawns in soup. The only difference perhaps was a sprinkle of minced pork over the noodles. The sauce used for the noodles resembled the condiments found in the instant noodle Indomee. The wantons were a tad too salty and the soup was laced with MSG. The only saving grace, perhaps, was the noodles itself. They were springly – but aren't they so instant noodle style as well? Fine, maybe its actual saving grace is in the fact that it tastes exactly like Sarawak's noodles.
IMO, a food outlet that claims to serve a signature dish should at least show that it takes some finesse to create the dish. I felt like just having eaten a burger that had been quickly assembled together by a part-time hired hand. If this outlet sells chicken rice, it would be a respectable foodie hunt as it requires skill, babe, to whip up a plate of decent chicken rice. Or take roti prata as another example. Not easy to create that fluffy, flaky thing to go well with a special curry dipping sauce ok.
May be I have been too harsh to this hometown's noodles. But really, do we need to create an upperty image for a quick-fix, humble dish which probably originated as a hawker food in the past for ordinary folks to quickly have a simple meal and carry on with their daily business? I imagined 'ah peks' sitting with one leg on wooden stools and shoving down their bowls of jia xiang mee. Food is glorious, yes, but may its glory rest in its rightful place.