The 20th of the month came about again. I picked up a whole bunch of classics to listen to, most of it I haven't heard before.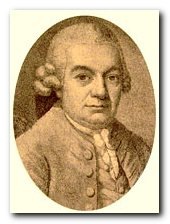 C.P.E. Bach's keyboard concertos. I've always thought Mozart was the composer who wrote the largest number of Piano Concertos, but the lesser known Bach here has Mozart beat flat. Son of the more famous J. S. Bach, Carl Philipp Emanuel Bach (pictured here) wrote a whopping 54 concertos for the keyboard. This set came on 15 CDs, and recorded with the Concerto Armonico conducted by Peter Szuts with Miklos Spanyi on fortepiano. Gonna take a while to wade through them all.
Bucket load of Haydn's Masses. I enjoyed Haydn's Missa in Angustiis from last month's collection that I picked up a collection of all thirteen of his masses, performed by Collegium Musicum 90 and conducted by Richard Hickox. This is a 6 CD collection. Unfortunately, the pieces are sung in Italian (I think), and without the libretto it's hard figuring out the words, as enjoyable as the music listening is. Oh yeah, there's always the Google search though.
Boccherini's cello concertos. I haven't heard a lot of Boccherini, but I love listening to the cello. I've got Vivaldi's cello concertos and they weren't terrifically inventive music though. Boccherini's twelve concertos came on 3 CDs and were much more nuanced and complex music.
Clementi's symphonies. Certainly not well-known music; Clementi is better-known for his piano sonatas which are widely practiced by piano learners here. I gave it a go because of the album's performers which I like: the London Mozart Players. Clementi's symphonies remind me of a cross between Haydn and Hummel's bodies of work.
Handel's Israel in Egypt. One of the somewhat better known oratorios though still not quite to the popularity of Messiah. The chorus numbers are AMAZING – using massive double choruses even!
Apart from these, there were also singular albums: more recordings Haydn's Die Schopfung, Handel's Dixit Dominus and Theodara, and of Mozart's Clarinet Concerto and his very lovely Sinfonia Concertante for Wind instruments which I've blogged before here.
Not quite as varied a range compared to previous months, but only because the works this time are large collections instead.