Choirs & Choruses
One of the interesting bits about Ling and me is that we were both choir conductors.:)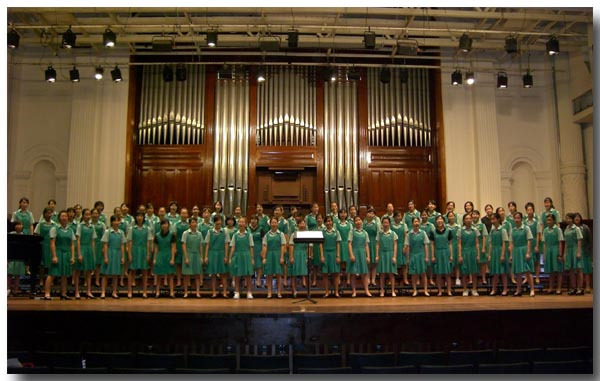 Even though I applied to join choirs during during week 0 of my first year studies in NTU 17 years ago, I had no vocal training whatsoever. My singing exposure was limited at that juncture only to the bathroom, with the repertoire comprising baritone arias from Mozart (especially Se vuol ballare from Mozart's Le Nozze di Figaro) and selected numbers from Gilbert & Sullivan's operettas.
As it turned out, I had different experiences for the two choirs I applied. The Hall III choir was reputed to be one of the best hostel choirs around NTU, so I gave a shot at that. Though instead of qualifying as a singer, I was selected to be conductor instead even though I had zilch conducting experience. I tried out also for the NTU choir but the auditions were running immediately after a week long Hall Orientation Camp. I'd been shouting / yelling during the hall activities, and I ended up croaking during my round.
So it was the Hall III choir. I had to learn conducting from scratch, and with my choir coordinator in tow, we hit the old dusty Musical Scores section at the old National Library at Stamford Road to look for songs and choruses to sing.
It's fun to think of it now, because 17 years later, I still conduct, but only in pseudo-fashion. As in when I hear inspiring music, my hands automatically start moving to beat to the music. In fact, I have a secret wish: to, one day, conduct a choir again singing one of these choral pieces:
"Dixit Dominus Domino meo" from Dixit Dominus by Handel. This is the opening number from a choral work, and based on Psalm 110.
"Die Himmel erzahlen die Ehre Gottes" from Die Schöpfung by Haydn. Haydn's better known for his symphonies, but this oratorio ("The Creation" in English) is considered to be his best vocal work. The words of the song were originally in German, and it translates to 'The heavens are telling the glory of God'. You can imagine the grandeur of the piece if that's what the song is about, and it doesn't disappoint.
"Sing Ye To The Lord" from Israel in Egypt by Handel. From the finale of his oratorio, this is one of the most rousing choruses ever, and my favorite ahead any of the numbers from Messiah by the same composer. The text is from Exodus XV: 21 "Sing ye to the Lord, for He hath triumphed gloriously; the horse and his rider hath He thrown into the sea.", and has a short soprano section before the chorus and orchestra moves in. Very, very grand.
I don't think I'll ever conduct again of course, since I've forgotten just about everything conducting. But the music still excites and inspires.:)
Picture of Ling's choir rehearsing at the VCH, and from an earlier post here. More posts on choral music to follow.:)