One of the photographic assignments that came up in Hakuna Matata the other day was to find and take pictures of this lizard called Jackson's Chameleon. These critters grow up to just 30 cm, and these go, can remain pretty much stationary and well camouflaged when they're perched up somewhere.
So, there I was looking for the damn thing, and I just could find it after peering my eyes out for 10 minutes! Ling took a look around the area, asked me to pan my viewpoint a bit, and in about 5 seconds, said casually: "There – see it?"
Just to show you what I mean, the critter is this picture: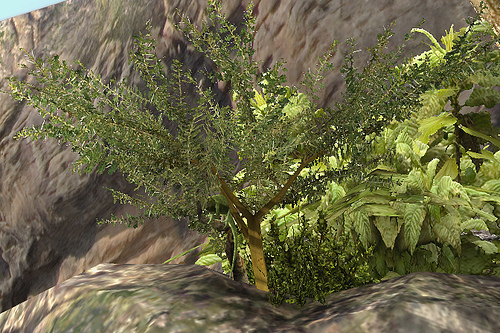 I went: "Where??? !@#%#@$#$@#$"
She was amused: "Aiyoh darling. It's right there in the middle. I've spent years looking at these plants and animals it's easy to tell which is which, and what's out of place."
And you see, this is the kind of wife that's worth her weight in gold when it comes to spotting lizards up on trees. The more so as her husband is cock-eyed!
Here's the actual critter zoomed in.:)