December, 2008
now browsing by month
New Year Resolution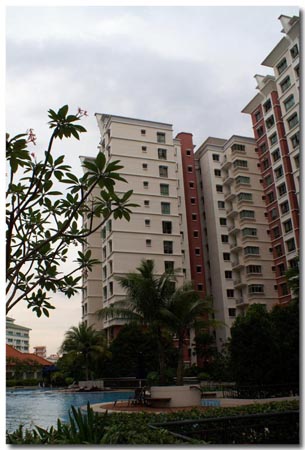 New Year Resolution: we intend to quit working for DBS Bank!
What's that about? It's about our home loan we took in September 2006 for our Rivervale home.
OK, this is pretty old stuff. We got our home at a pretty good bargain, the more so as it was just before property prices went right up. The price of our home was $430K. Ling and I had been working for several years before 2006. So while I exhausted most of my personal savings for Ph.D studies and a good chunk of both our accounts was used for wedding expenses, we were blessed that our CPFs were untouched that allowed us to foot a substantial amount of the home price.
That said, I wasn't working at the point of our home purchase, so the monthly DBS housing loan installments could only be paid for by Ling's CPF. So, it was a just under 60% home loan over a 25 year loan period. The loan installment is pretty low at the repayment period. However, it also means that over 25 years, a substantial amount of money is paid through interest. Close to a 6 digit interest figure if I got it right. Ouch!
So, after peering very hard at our finance spreadsheets and projecting our per year CPF accumulation and how our personal savings were growing per month, I've resolved to figure out some way not to keep working for DBS for the next 23 years left of the loan period. Initially I put together a plan to fully pay off the outstanding principal amount by Dec 2010. We actually have about enough right now in our combined savings and CPF accounts to pay off the entire remaining principal in fact, but it'll also reset what we've got in the bank to a nice fatty Zero. Too scary for thought, so no go on that one. So the safer option was to project progressive savings until 2010 where we'll be able to comfortably do a complete redemption of the home loan, and still have some savings for our regular use and safety nets.
However, after speaking to the bank officers, we worked out a very slightly better arrangement: we'll pay off 60% of our outstanding principal immediately first, then shorten the remaining amount over a 5 year period. Yeah, it'd mean we'll still be working for DBS past 2010, but Ling liked the about four digit savings if we went with this rather than the full loan repayment in 2010.
In any case, our child will be coming to 4.5 years old by then, so that'll be about the right time to, well, start saving up for his/her, er, University tuition fees LOL.:)