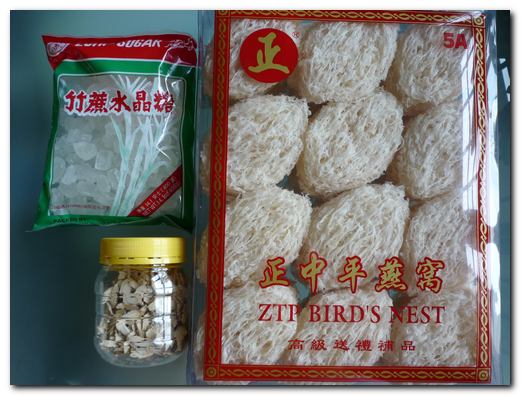 One thing I missed a lot was wholesome home-cooked food when I started going through the first trimester of my pregnancy. I missed my mom's stir-fried veggies, be it cauliflower, spinach, kailan, kangkong, beansprouts, the list goes on. I used to have heaps of these to go with steamed rice. They were all very good.
Since cooking smells have become nauseating to me, it was a challenge to cook anything at home especially where oil is required. I tried to fry an omelette and stir-fry spinach for lunch today, but I don't think I can tahan doing it the second time. Sometimes I envy my colleagues who stay close to their parents as they would always hop over to their parents' place to have dinner. Our place is in the middle between both our parents' homes, and not very near both ways.
Recently, my in-laws bought me loads of 'yan wo' (birdnest; a Chinese delicacy) and 'pao sheng' (Chinese herb) for my pregnancy in 2nd and 3rd trimesters. I was very touched. My mother in-law taught me how to prepare this delicacy. She even supplied the crockery for the very purpose!
There have been conflicting reports on the pros and cons of consuming birdnest for pregnant women. On one hand, it is reputed to give smooth complexion and healthy lungs for both the mother and baby. On the other hand, it may cause ailments such as asthma. Some say eat in moderation. So far, birdnest soup has not given me any problems. I hope it will not as it is such a wonderful yummy soup.