November, 2008
now browsing by month
A Company of Heroes
I don't as a rule follow authors, preferring instead to read selected works after having first checked them out first if they're any good. There's a few however whose books I'll pick up without hesitation. There's Colleen McCullough who wrote seven novels dramatizing the Roman Empire, with several of those volumes 1000+ pages long.
And there's also the late Stephen Ambrose, a historian who wrote several books based on the oral accounts of men who fought in World War II. Ambrose is best known for three books: Citizen Soldiers, which is one of my most-loved books ever, D-Day, and Band of Brothers. The latter was turned into a 10 part HBO miniseries in 2001. It's still generally regarded today as one of the best miniseries ever, picking up several Emmy Awards, including the ones for Best miniseries and casting.
The book and TV series should be semi well-known, but here's the capsule version. The story follows a Company of paratroopers from the US 101st Airborne that fought in several key battles in World War II.
I read the book to which this series is based on some years back in 2001, but didn't actually watch the TV series adaption itself then. So, as soon as the Region 1 DVD set was released a year or so thereafter, I bought it online and had it shipped to Singapore. It was a beautifully produced set, coming in a specially made metallic box (below left). There were a couple of niggling issues though, specifically that the DVD set didn't include English subtitles, which made it at times a little hard to follow. I did had the book beside me so I could roughly follow through the story in each episode, but it wouldn't had been necessary if there were subtitles.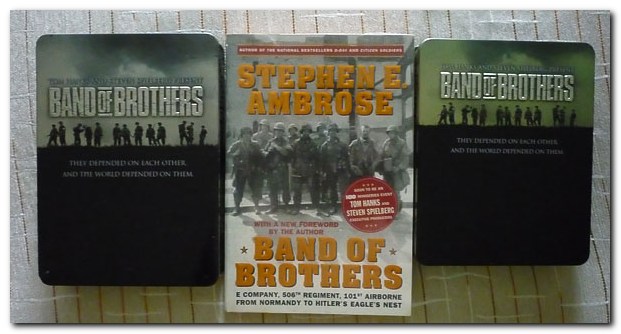 I picked up the blu-ray edition of Band of Brothers as soon as it was released, and Ling and I have been watching the episodes at 2-3 per evening. Like the DVD set, it came in a similar nifty metallic box (above right). There are subtitles this time, and the high definition release really makes one sit up and notice all the little details that was missed in the DVD release years ago.
I don't know how Ling feels about the show (she at least seems to be able to follow the stories and the main characters). The show is meaningful for me as it demonstrates the heroism from a time and generation past, and the sacrifices they made just so that people today can live the lives they do now. Each episode starts with interview segments from seemingly random veterans of World War II. Ling was asking me were these veterans actually soldiers from the Company. It's only at the very last episode when it's finally revealed who are these veterans, and I remembered tears welling up when I finally realized that that the characters portrayed in the 12 hour series was indeed the very same elderly gentlemen recollecting their experiences from 60 years ago.
It's sad that very few of these veterans are alive, as more have passed on since the interview segments were recorded during the series' production 7 years ago. But Ambrose's novel and the series have done some measure of justice to their experiences, and hopefully will introduce to future generations what some have called The Greatest Generation that has ever lived.