There must be thousands of temples and shrines on Bali of varying sizes and importance, but each one is still beautifully decorated with status, carvings, and many also in Balinese-styled architecture and landscaping. That said, the sheer number of temples can easily overwhelm a person, to the effect that by the time you've got to the fourth or fifth one, they could all start looking alike.
In the preparation for the trip, I consulted the usual Wikitravel, Lonely Planet and DK guides of the island, and they all suggested that the nine most important temples on Bali are each well worth a visit. Still, I was really more interested in the natural sights. I narrowed the list down to six, as from the colorful floor map layouts on the DK guides each temple just didn't look too dissimilar from one to the next.
Some but not all of the temples were free admission, and for those that didn't charge an entrance fee, a small donation of about 5000-6000 rupiah was nonetheless still expected. Actually on the issue of admission prices, I felt the island has been fiercely commercialized. Every place we went to required an admission / donation fee from a low asking of 3000 rupiah to a huge whopping 150,000 rupiah (i.e. the Bird Park). Even the waterfalls required an entrance fee. The one exception was Mt. Batur, which made sense: how do you possibly put a barrier around a freakin' huge mountain LOL. :)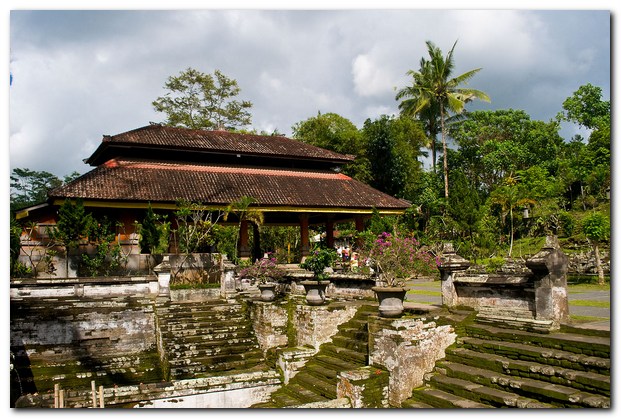 Visitations to the temples also required respect for their customs, and there were signs advising visitors that they had to be decently dressed. So, sarongs had to be worn, with an additional sash that I still haven't quite figured out the religious significance for, if any. On Day 2 and our first day with Dewa Marco, our first stop was Goa Gajah (above picture). The sarongs we took were a terrific blue that stuck out like a photographic blemish in the photos. As soon as we could at Tirta Empul, we bought much nicer sarongs, though Ling didn't bargain nearly hard enough. We paid 140,000 rupiah for the two sarongs—very expensive and I think we were overcharged.
One thing too about the sarongs. I have new-found respect for Indonesian and Malay men after this Bali trip—the way they wore their sarongs without tripping is just astonishing! The first time I wore the sarong at Goa Gajah the damn thing slipped off. So there I was, taking photographs with a heavy D300 with one hand and the other hand trying to keep my sarong up. Moreover, every other step I took I nearly stepped on my hem of my own sarong and fell.
At least my sarong-wrestling gave Ling some giggles. Fortunately, no pictorial evidence of my clutching the sarong with one hand to keep it up exists. Oh heck; maybe she sneakily shot some video footage of it! I'll have to make sure I edit all those Funniest Home Video moments out when I work on them later this month.:)
A couple of the temples were packed with vendors and touts too, and they were selling all sorts of wares, including sarongs, fruits and drinks. They didn't bother me very much at all, me being the expert when it comes to brushing off the ubiquitous salespersons in Singapore. I simply told each person a polite and firm "No thanks", or simply ignored them. Ling on the other hand was a little distressed, and by the time we got to Ulun Danu Batur on Day 2, Ling had her fill of temples. That required some changes in our day itineraries where I removed all but the most important religious places, and Dewa was fortunately very accommodating on my requested changes.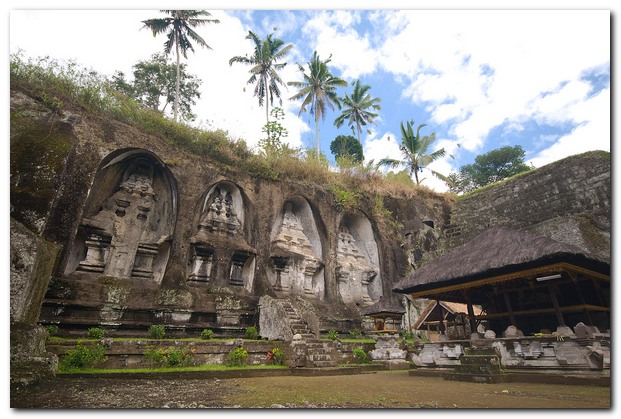 A few more notes on the temples we visited. The Gunung Kawi Royal Monument (above picture) was accessible by a long flight of stairs that Dewa estimated to be a couple hundred. Each direction to and fro the temple and carpark had stairs going both up and down. Talk about our legs getting a thorough workout. Ling fared far better than I did for certain since she's Mt. Everest and Mt. Kinabula-trained. Moreover, we were carting around heavy photographic equipment. I told Matt that the next time we go to these places, I'm hiring a porter. If not, I'm gonna rent a donkey! Matt had a good laugh and said he'd pay the rental fee alone to see me do it LOL.:)
Tirta Empul has beautiful bathing pools that I was really hoping to get some good pictures of. Unfortunately, the day we visited (Day 2) was teeming with crowds as it was still a religious holiday period. Ulun Danu Batur is situated around Mt. Batur and didn't look too special. Moreover, Ling was reeling from the vendor / tout effect. There's a photo I took of her there and it sure was hard getting her to smile for the picture.
Pura Kehen was a much smaller temple. It was pretty deserted when we were there, so we had the tripod out for those couple shots. Funnily, the wireless trigger for the D300 didn't work so well as I placed the camera some distance from us to get the composition I wanted. So, it was back to using the self-timer mode and running to and fro to reset the timer each time.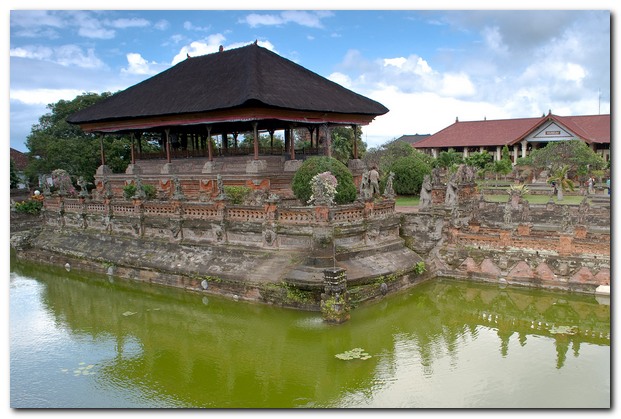 We visited Taman Gili above on Day 3 (Day 2 with Dewa). This place was beautiful. The palace is set in a moat, and we got several nice couple shots in too, including some panoramic shots of the stone path crossing the moat, and also the length of the palace itself. The place was initially deserted in the early morning we were there, but it wasn't long before several groups of Caucasian tourists arrived. There's a way to Photoshop them out in the panoramic shots by taking multiple and timed shots with exactly the same composing and blending them together, but that was too much of a bother.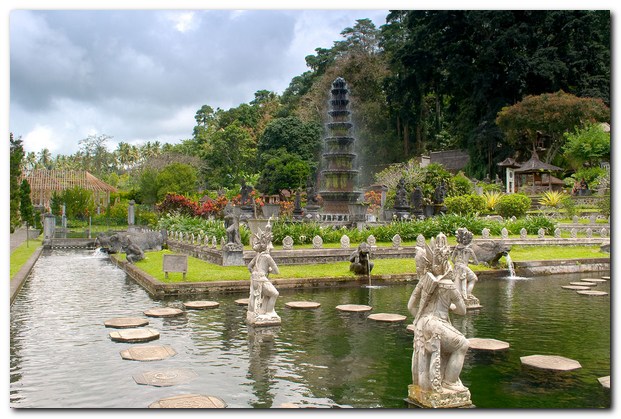 The Taman Tirtagangga water gardens in the picture above was even more stunning, but the 2 hour journey to get from Taman Gili to there was via small, terrifically winding and bumpy roads. That was when motion sickness kicked in for me. I struggled through the journey, including having to lie flat down on Ling's lap to minimize the sensation of movement. By the time we got there, I was about to bowl over—any distance longer I would have had to make use of the SIA baff bags.
Either way, I was feeling too sick and hands too shaky to take good pictures. So it was a bit of a waste. The Tirtagangga photos didn't turn out so well even though the place was visually amazing.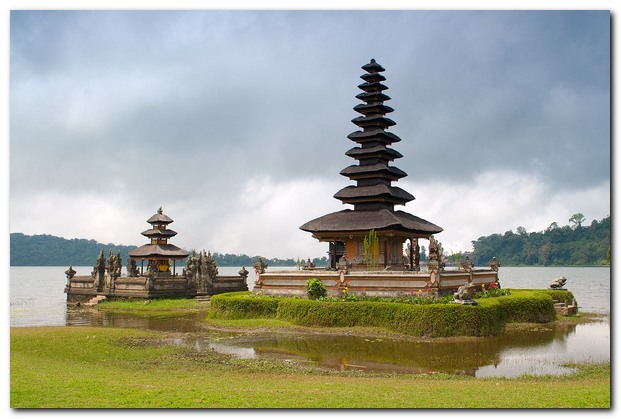 The picture above is from the last temple we properly visited on Day 4 (Day 3 with Dewa): Pura Ulun Danu Bratan, or the temple in the lake. This place was situated on the hilly part of the island so there was a mist layer in addition to the cloudy skies. The entrance gardens had these huge and tall trees that reached right up into the sky (there are a couple of photos of these trees). Ling will have to help me identify what trees they are. There were quite a few visitors the day and time we were there too.
Oh yeah; story here. Wherever we went, as soon as I got the Manfrotto 'pod extended out, there would be visitors stopping to 'beo' our photographic equipment. It must had been something to do with the fact that I was the only weirdo carrying a fully extended tripod moving from spot to spot in several places. I don't speak French, German or Italian of course, but I can understand selected words and phrases. Comes from all those decades of listening to soprano divas sing opera in those languages. The Caucasians all looked on in admiration, and from what I understood from the words and phrases I recognized, they assumed I was a pro taking photographs for some publication. If they only knew how crappy some of those pictures turned out LOL.:)
And here's the funny thing. Apparently, at any given place, only the Caucasians seemed impressed. None of the Asians 'beo-ed', because a few of them were also carting around Nikons and Canons DSLRs. Heck, on our flight back to Singapore on the last day, I saw a Japanese guy hand-carrying into the flight gate area a Nikon D300 mounted with what looked like a Nikkor 70-200mm f2.8 lens. That's a 8.5 inch long lens that weighs 5 pounds. And he even had the lens hood mounted on which extended the lens length by a couple more inches. Wow. One would have thought the lens should be safely tucked in its holder in a bag. I wonder what he was intending to shoot during the flight with that kind of equipment.
So, that's the story here for the temples, palaces and monuments. Quick summary and recommendations to visitors:
Goa Gajah (Photo #1 in this entry). Worth visiting. Visitation length about 20 minutes.
Gunung Kawi Royal Monuments (Photo #2). Worth visiting. Visitation length about 30 minutes (most of it climbing up and down).
Tirta Empul. Worth visiting. Visitation length about 30 minutes.
Pura Ulun Danu Batur. Wasn't impressed. Can skip if no time or at most a quick stopover.
Pura Kehen. So-so. Visitation time about 20 minutes. Can skip if no time or at most a quick stopover.
Taman Gili (Photo #3). Worth visiting. Visitation length about 30 minutes.
Taman Tirtagangga (Photo #4). Worth visiting. Visitation length about 30 minutes.
Pura Ulun Danu Bratan (Photo #5). Worth visiting. Visitation length about 45 minutes.
There are a couple of other important temples we visited, especially Tanah Lot and Uluwatu. We didn't enter into the temple compounds themselves, so I've put them into the next Bali: Places blog entry I'll be writing shortly.
In the mean time, here's the link to a selection of the photos for Temples, Palaces and Monuments.