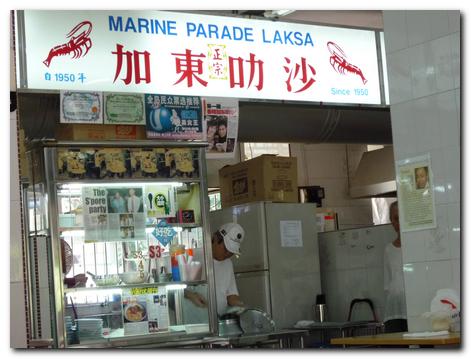 I'm quite determined to look for the best laksa in Singapore. Conditions apply though: 1) The stall shouldn't be too far away from my home, e.g. Tuas, 2) The rating is based on my preference. Hee hee :)
The laksa stall I'm blogging about today claimed to be the original Katong laksa. It has re-located to Bedok North already. I read about this stall on a local food blog and decided to give it a shot. This stall was mend by an uncle and another helper uncle (who brings you the laksa). It is situated in an old coffee shop of a HDB block which behind the Bedok Stadium and beside the SPC petrol kiosk. The stall name says 'Marine Parade Laksa' in English but 'Katong laksa' in Mandarin.
When I ordered a bowl of $3 laksa, I noticed that chopsticks were given. Hey, I though Katong laksa is well known for using only the soup spoon to eat from? Hmm, never mind. The laksa was served in the old-fashioned Chinese soup bowl with fresh laksa leaves garnishing. At first glance, the soup looked less milky and not as thick and viscous as 328 laksa. Hmm, okay. Now the taste. This soup has more complexity than 328's. Good recipe. I continued slurping at the thick rice noodles and drinking the soup. Ah, it is homely and satisfying without the guilty notion that one is consuming too much unhealthy coconut milk. However, if you want the kick, then 328 will deliver it right to your face.
Next stop, the laksa at Roxy Square. :P