August, 2008
now browsing by month
Rain and Fire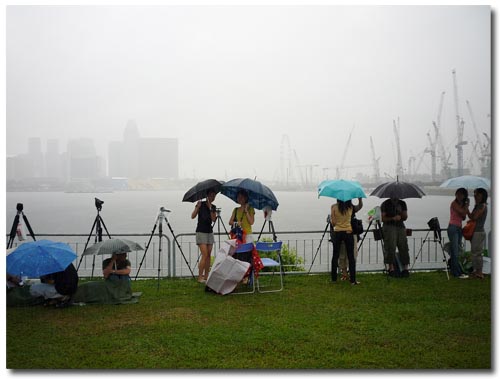 The funny thing is that I'm far more likely to remember the tropical rain from yesterday than all the pyrotechnics that followed thereafter during yesterday's shoot at the Singapore Fireworks Festival.:)
Ann's students recced the area over the several days leading up to the event to see if there were better spots to take the pictures for the night. They got to what seemed like a pretty secluded spot in Tanjong Rhu after walking through open fields, crossing longkangs (drains) and the like.
The Tanjong Rhu spot is pretty nice and it offers a more interesting perspective of the fireworks than the usual Suntec City + Esplanade backdrop that everyone usually guns for in these things. You just have to accept that the Benjamin Sheares bridge will be in it.
In any case, I was OK with either this spot or the NTUC open field for a repeat shoot again—two weeks ago I shot the National Day Fireworks from the same spot. Ann chose the latter, and I looked around for places to park in the Central Business District so that we wouldn't have to choke on too much ERP and parking fees again.
The festival spanned two days, and the second day on Saturday was expected to experience huge crowds. We settled on Friday, but I still wasn't ready to leave anything to chance. One thing I learned from the NDP shoot was this; there's no such thing as "too early" when it comes to Singaporeans. You want a good spot for anything, you just have to be even more kiasu than the next fellow. So, I took a half day leave from work and with Ling got to our spot at 4 pm five hours before the shoot.
And would you have guessed; there were already photographers camped out there at 4 pm!! Fortunately, it was just about half a dozen photographers already there, so Ling stopped by One Marina Boulevard and I unloaded around 8 kilograms of equipment: the tripod, the camera bag with the D300 + lenses + filters, beach mat and two chairs; all for me to set up camp.
Ann was still at home by the time I'd started the camp; she'd overslept with her power nap.:) A few SMSes later though and she was on her way.
Then it started raining! And there was wind to top it off. Ling was still looking around for parking space, and I'd forgotten about the umbrellas. So there I was huddling under a beach mat desperately clutching onto camera equipment and the tripod to stop it from blowing into the bay haha.:)
It was still raining by the time Ling got to where I'd camped, with Ann arriving shortly thereafter at around 5 pm. The three of us huddled close together for mutual rain protection, and also to avoid the oft chance we'd get struck by lightning. A newspaper headline that reads "Two Photographers and a Tripod Girl Died For Their Hobby" wouldn't look so good.:)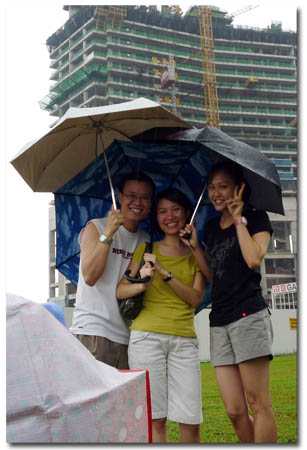 The rain subsided into a very slight drizzle at about 7 pm. The field was seeing more photographers arriving, though by the time the fireworks started itself, the field still wasn't nearly as crowded as it was during the NDP shoot.
What were the things we did to occupy ourselves? Well we'd neglected to bring playing cards. One group on our right did. Another group on our left brought along their notebooks even. And Ann went about the stretch peering at what other people were using for their tripods.:)
The fireworks started at 9:20 pm and ran for 20 minutes. Longer than the NDP, somewhat more impressive, and I think we got a good number of nice shots. A selection have been uploaded into our Flickr album right here.
Oh yeah; there was the usual smoke diffusing the visual spectacle of those fireworks. Ann cheerfully suggested aloud that we all blow as vigorously as we could… from 300 metres across the floating platform. That got the photographers around us laughing.:)
So, was it all worth it? The math of it is boggling. Five hours for the about 180 exposures, two thirds of which turned out pretty OK.
Well, at least one thing's for sure. I'd like to move onto other spots next year. The thing about fireworks photography is that the shoots aren't really all that different unless you change your spot to get a different perspective.
That said, it's really a social occasion. These shoots just aren't just any fun if you're going on it alone. Ann provided a good number of jokes. And that's what we'll remember from this evening—the rain, the laughs, and the fireworks (maybe)! :)
Oh yeah; Ann's must-read account of the shoot is right here.:)