May, 2008
now browsing by month
Bangkok by Metre
Use a metered cab—make sure it is metered!
This is obviously good advice. And like most good advice I've received throughout my life, I chose to ignore it. At the Bangkok airport, taxi stand in sight, I ducked through the revolving doors and toward the pavement. Within two seconds I felt like the prettiest girl at the prom. But these people didn't want to dance, nor did they want to admire my bright, shining smile . . .
"500-baht!" shouted one man, placing his outstretched palm so close to my face that I read his future. It was thus: You will not be receiving my 500-baht in this lifetime.
A less anxious man next to him quoted the same figure, adding, "Where you wanna' go?"
I pulled out my printed sheet with the picture of my destination. "Asia Hotel, please."
"What? No way!" He and the anxious man laughed, their entire bodies jiggling with glee. It was the kind of laugh that slaps you right in your face. "That too far. I lose money for sure. Now for 800-baht, I take you to hotel."
I tried to act like I'd done this before. "800-baht is too much." I looked on as the Singaporeans who had flown with me jetted off in metred taxis. Meanwhile the two men rattled off a number of figures, each an attempt to justify their price. I pretended not to listen. After flipping on my sunglasses I began to proceed on.
They followed, but a third man equipped with a clipboard stepped up. "700-baht and I take you to your hotel. Have nice taxi just for you."
"Huh?"
The man drew a "7" with his finger. "700-baht."
"No thanks."
"Your hotel is so far away, much further than other places, plus there is huge airport charge. 600-baht is low as can go."
"Funny, because I hear metered taxis go lower. Oh," I said, looking forward, "there's one now."
"Wait, sir. They very slow. My taxis treat you right."
"Treat me right for 500-baht."
The man looked exasperated. "Come this way please; 500-baht."
Pleased with my first haggle, though aware that clearly I was being played whether I liked to think so or not, I agreed. I followed the man and his scribble-addled clipboard across the departures traffic where upon he passed an invisible baton to an older man who I was then to follow. Already this was less fun than I imagined it. Into the trunk of the man's Volvo did my suitcase go, with me following likewise into the rear passenger seat.
One wonderful feature of this car was the pristine, untarnished seat buckles. This made perfect sense when I noticed there were no seat belts to accompany them. It turned out not to be an issue. The man drove slower than paint dries whereas I had always heard the reverse was true of Bangkok cabbies. But he was an amiable chap. He mentioned that before long a train would be built connecting the airport to the city proper. "When comes, I no good anymore," he said, chuckling at the prospect. "I look for another job already!"
I finally arrived at my hotel, a little later than I presumed but no worse the wear. And I had conducted my first bit of haggling, regardless of being royally screwed. At least it was consensual. But a larger problem loomed: the word was out that I could be easily had. Every hoodlum, trickster, and money-grubber in Bangkok was on notice. During my first jaunt out from the hotel I was confronted by a heavily tattooed man in his 50s, cigarette dangling from his mouth, who claimed to be raising money for the Boy Scouts of Thailand; a young woman who praised my watch and then claimed she had access to expensive jewelry for very cheap ("Buy now cheap and soon resale value go higher!"); and a dapper-looking fellow wearing an Alfred Dunhill leather café racer jacket who didn't really need my money but, hey, if the stupid Caucasian was just giving it away, why not give it a try?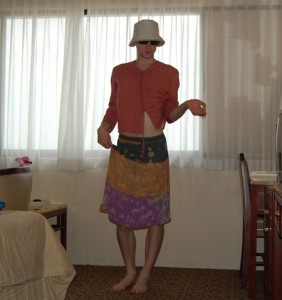 I could take no more: I needed a disguise:
This would have to do.
Not! This outfit would only attract more attention—and the kind I definitely didn't need. But this goes to show what lengths I'm willing to go to just for a cheap laugh . . . or a cheap cry—you decide.
Speaking of which, I came across several transvestites during my stay. This isn't an entirely uncommon thing to see in the United States, even in the more conservative Midwest region in which I live. One difference, however, is that the transvestites in Bangkok give the women a run for their money. Thai people are generally quite attractive but, darling, their transvestites are simply duh-vine.
But though Thai-trannies are the more attractive and hygiene-conscious, I'm positive Ameri-trans could whip the mother-lovin' crud out of them in a fair fight. I say that because in a fight between real women, I always bet on the one with hairy legs.
Yet never did I run into a prostitute. Or, rather, never did a prostitute make herself known to me by way of a proposition. I'll admit disappointment. I had tons of witty verbal comebacks planned for just an occasion but alas they never had the opportunity to be sprung forth. I guess I'll have to save the witticisms for when the next time a stray dog attempts to hump my leg.
However, the bright and amiable schoolchildren of Bangkok definitely knew how to rock: