April, 2008
now browsing by month
"Got game or not…?"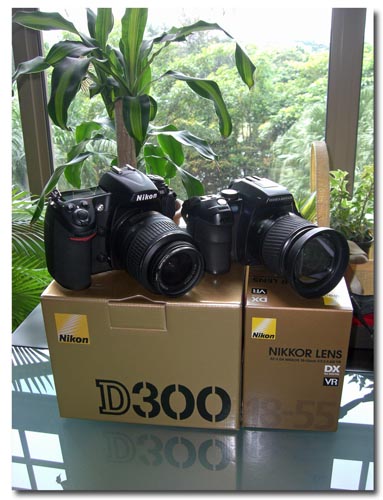 Ling can say the strangest things. I was explaining and showing her the different functions on our D300 yesterday at home. Clearly impressed, she asked innocently:
"Wah – got game or not too?!"
"Aiyoh dear, you think this is a handphone ar…?"
Laughs aside, of the four Canon and Nikon DSLRs the list narrowed down to, the Canon 40D was actually on the top of the list. It had great image quality, an extremely sexy-black body, not too heavy, and compared to Nikon had a marginally better midrange zoom and 50mm prime lenses that I was including in the initial outlay. And the great asking price of $2K for the body and kit lens was made even more attractive when Canon Singapore announced another price cut of $300 a fortnight ago.
I have a friend at work who just picked up a similar configuration that I was also considering and she was clearly pleased with her acquisition. And there's of course our friend Ann who's also a Canon user (whom I think is going to give me dagger looks now the next time we meet.:) ).
So, the Canon 40D is a lot of great camera for a low asking price of $1.7K for one of the kit sets. In fact, up till as recently as 4 days ago I was reasonably certain I was going with the 40D. I've got two other colleagues in my department who're Nikon users (one is a D40X and the other a D70), and both were clearly disappointed when I remarked during gossip I was going with Canon.
The trouble began ironically when I casually asked Ling for her opinions. "Darling, if you had a choice between a Nikon or a Canon, what would you choose?", and she promptly replied "Nikon!!!!" She has this impression that professionals all go with Nikon. Come to think of it, I think even my dad's generation had the same funny perceptions. Both of two uncles I've got who are also photography enthusiasts swear by Nikon and both would hear nothing of other camera systems. There's even a remark here that:
"Canons are the best cameras available designed by engineers, and that Nikons are the best cameras one can buy designed by photographers."
Personally, as said in the earliest post, I think both systems would have served me equally well. Putting aside that Canon has marginally better optical quality for a midrange zoom and prime lens I'd included in the configuration, the decision between a 40D and the D300 came down to just two criteria: price and camera body features. The differences between the two units have been well discussed in many online threads, with most – Canon users included – recognizing that the D300 was much more expensive, but also a substantially better-featured unit with a lot of learning opportunities for casual users willing to invest time in.
Interestingly, image quality (which is what should ultimately matter for people) between the two were about equivalent though the D300 had reportedly very slightly better noise control at high ISO levels. But all this for an additional thousand moola – ouch! I guess even Ling saw how difficult the decision was going to be. She looked over my shoulder several nights last week while I agonized over the spreadsheets, and chuckled "Wah – still deciding between the two huh?"

But I had to move on at some point, so on Saturday late morning, we headed down to MSColor @ Ang Mo Kio hub. I was already reasonably familiar with both models' feature sets by then, so decided to get Ling to help provide the tie-breaker. Her initial impressions of the D300 was that while it was really heavy, the 40D felt a bit like too plastic-y. When I asked her what her gut feeling was, she said go with the Nikon.
That about settled it there and then. Who am I to argue with my wife haha? She wanted to buy me the thing as a present, but I said we'd do this as a joint purchase, if nothing else to give her some incentive to get into photography too.
I think I was a pretty easy customer at the shop. I didn't bargain. When given the initial quoted price, I plainly pointed out that someone else had bought the D300 at this XXX price at the very shop a week ago (which was apparently about the current lowest price you could get the item for), and asked for the same courtesy. The sales fellow said he'd need to check with his boss, and a phone call later, said yep he'll also sell it to me at that price then. So, 15 minutes later, we were out of the shop, and as business-like as usual, we were next at NTUC for me to buy the things I needed to make Green curry that night for dinner.
Funnily, it's strangely therapeutic to write reflections on this process of buying a capital item. I'm pretty certain in the years to come, reading these entries will bring back great memories of marriage life and co-decision making.
OK, the next and last – I promise – entry will be on the new camera itself.:)