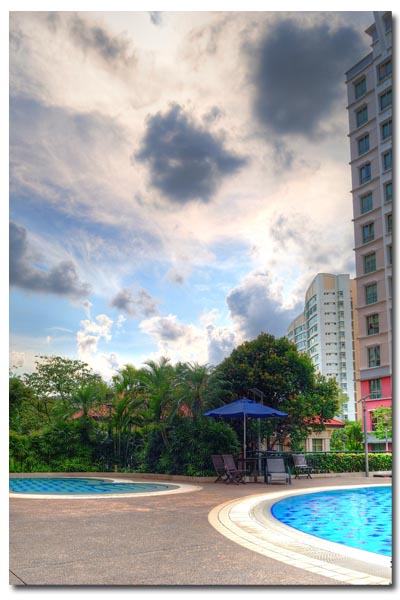 One of those things I've never really gotten around to doing is play around with Photo editing software. I've had them for years – e.g. the very first digital camera I bought in 1999 (a Canon S10) – came with a very early edition of Adobe Photoshop Elements. All the digital photos I've taken since that point I've rarely put through software processing outside cropping, resizing and adding shadow drop borders.
One of the most fun things about having picked up the D300 is that I'm now relearning all the stuff I've been missing out, and boy am I totally a noob in this sort of thing. I'm right now still wrestling with understanding how Photoshop curves work. Fortunately, there're a ton of online tutorials explaining how to achieve all sorts of effects in Photoshop.
One of the really nifty things I tried out over the weekend was creating HDR, or high dynamic range, pictures. The picture here is a really early attempt using a hodge-podge of different software; one to convert RAW to JPG, another to properly align pictures, a third to create the HDR picture itself, and a fourth to do some more adjustments.
Come to think of it, the final product here looks awful when I compare it to those taken by pros and experienced enthusiasts. E.g. look at the upper right corner of the picture. Looks awful. But hey it's just an early attempt after 30 minutes of reading tutorials.
Another effect I've been trying out is creating polarizer effects in Photoshop. It's pretty interesting stuff that range from simple use of gradient tools to darken the horizon, to inserting new layers with complex adjustments made to cyan colors.
The results haven't been satisfactory though. It seems generally agreed that it's tough to replicate in software the polarizing effect you can get from a high quality filter. Fortunately, I've just ordered one such filter that should be arriving by way of Matt – who when coming to visit us next month is going to be like a Santa Claus of sorts. If all goes well, he'll be bringing me a Nikon SB-600 speedlight, this circular polarizer filter, a midrange 55-200mm zoom lens, and finally a 10-20mm wide-angle. The latter I'm especially looking forward to as I've not dabbled much in wide-angle photography, but with our upcoming trip to the Ayara Hilltop resorts in June it'll be an excellent opportunity to.:)
Oh yeah; here're a few more of my early attempts in HDR.:)