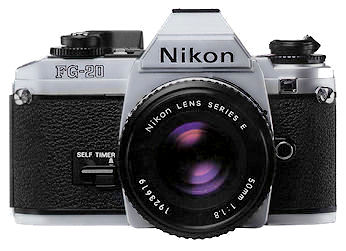 Many of us through our live times pick up or drop hobbies. For myself though, my choice of hobbies have remained quite the same. I've got four interests / hobbies: debating, music composition, gaming, and photography (the aquarium thing only came into the picture 2 years ago and is still considered a relatively new hobby).
My dad got me my first SLR in 1985 when I was a secondary two boy at ACS. I remembered making the trip down to the Cathay Photo at the old Bras Basah road, and sales uncle showing me how to use the camera. The model was a Nikon FG-20. Photography was a very new thing for me back then, and I remembered pouring over the instruction manual repeatedly, even bringing it to school and on public transportation to read whenever I could. I learnt about aperture control, depth-of-field, centre-weighted exposures and the like.
Not surprisingly too, the photographs I took back then truly sucked, but ironically they're of immense value today as there aren't very many pictures of my family at home taken in the 80s. I got more adventurous when I entered ACJC. I remembered bringing the camera to school in my second year, and offering to take portrait shots of all my classmates and friends. I still have all those pictures nicely framed and commented upon in my albums, including a very lovely portrait shot I took for a girl in my class I was interested in (back then OK!!! / *avoids Ling's death glare*). I remembered saving every penny I could to buy a 70-200 mm Nikkor zoom lens too. The thing cost $400 in 1989. That was a huge sum to me, though as any photo enthusiast will tell you, quality-wise a $400 zoom lens is of the bottom of the barrel variety.
Not long thereafter, I was enlisted into the army, and somehow ended up also as the battalion photographer after I received my posting. Some of the memorable events included running up and down the column during a 40 km road march to take pictures of my unit's soldiers marching down East Coast, and also taking mug shots of all 700 persons in the battalion for overseas training trips. Several years thereafter in 1995, I completed my Bachelor degree at NTU, and again, took graduation pictures for the fellows who were graduating with me.
Photography remained throughout then a pretty inconvenient if not expensive hobby, what with having to make frequent trips to the studio. I finally got into digital photography in 1999, picking up my first digital camera in 1999 (a Canon S10) for a horrendous price of $1800. The model was a 2 megapixel machine, and quite innovative for its time. The battery life was awful (it could barely do a few dozen shots before the battery kaput-ed), and Memory CF cards were crazily expensive. But wow, the camera sure was convenient. I could take pictures, see their results on the PC almost instantly, and after the painful initial product purchase, taking pictures cost next to nothing and I got instant gratification each time.:)
Well, 10 years later with several more digital cameras in between, my hands have got all itchy over the last few months to replace my current DSLR, a Konica-Minolta Maxxum 5D. The latter's a great camera for its time: good noise management, body-based image stabilization that actually works, and it's been reliable for the several years I've owned it. But problems with flash-work, no available battery grip, a very loud shutter that goes "ka-PLAK", and that Konica-Minolta is no longer in existence (they got absorbed into Sony) have been nudging me into looking for a replacement soon. I've got my eye on the Canon 40D, but at its current asking price (body alone is $1.8K – ouch!), I think I'll have to put it aside for the moment until I strike lottery.
All that said, I actually have a friend – an old student of mine from my Software Engineering class of 1997 actually – who's also into photography, and she steadfastly refuses to get into digital photography. Never mind the convenience and the minimal cost in taking pictures. Rather, for her, that you can easily take hundreds of shots of one subject at no cost and choose the best one spoils photography. She'd rather experience the thrill of taking only singular shots where decisions of subject composition, framing and exposure control must all be made real-time and got right the first time. And that is absolutely of the old-school love of photography that I have nothing but the most admiration for.