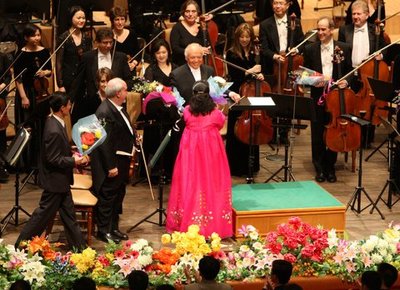 OK, maybe not – Mathematics should be the only universal language. But it was still delightful to wake up to good news for a change. No, it wasn't that Bak kwa prices are dropping. Rather, the New York Philharmonic under Lorin Maazel just did a concert in Pyongyang in what seems to be a small step towards warming of ties between two countries which are still technically at war. To be honest, I don't have many albums of the NY players. A disproportionate number of my classical CDs are performances by the Academy-of-St.Martin-in-the-Fields, the Wiener and Berlin Philharmonikers. But hey, any news where music is doing a number for world peace and harmony is music to my ears.
The concert was largely attended by the party cadre and elite. But from reading the reports, the concert struck a chord in many of the North Koreans, some even moved to tears during the orchestra's performance of Arirang, a beloved folk song in Korea. Hooray for music! It was even reported today that famed rock guitarist, Eric Clapton, has just been invited to also perform in Pyongyang. Exactly how much appeal rock music has in the hermit country up North is anyone's guess, but one report's suggested that Kim Yong Il's son is apparently an Eric Clapton fan.
Ironically, the least cheerful reports of the event came from the White House, who cautioned against reading too much into the event. Duh – what party poopers.
Here's what Chicago Tribune's report of the event, with the picture in this entry from the link.