December, 2007
now browsing by month
All it took was a PS3
One of those little nagging things about lecturing in a Gaming course is that I've always felt a little left out when my students rave about the newest console title. I mean, so many of them tote around PSPs to school it's scary.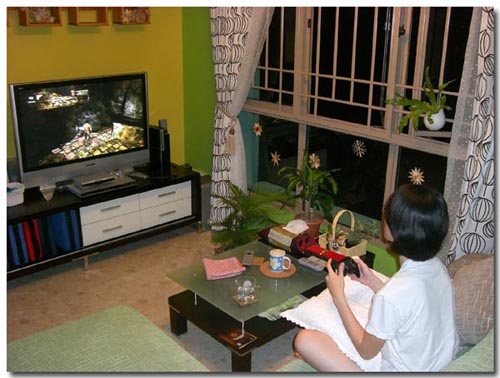 My parents got my two brothers and myself an Apple II computer in 1983, and while both my elder brother and myself got into computer games from that point, I was also altogether interested in the creation of games through writing programs.
From that point, I've chalked up about 24 years of computer gaming but very little on consoles, despite my good bud Matt's best attempts to get me to at least take a look at consoles.
That said, the nagging feeling that I could be missing out got to me eventually, and a fortnight ago I started seriously looking deciding whether to get an XBox360, a PS3, or a Wii. All three have their advantages and appeal, but I decided on the PS3. I figured that if the console gaming didn't appeal as much as PC gaming, at least we'd have a Blu-Ray high-definition player.
The Blu-Ray player didn't disappoint. The first title we got – Ridley Scott's director's cut of his movie Kingdom of Heaven looked so splendid on high-def that Ling actually enjoyed the viewing much more than the two times we watched it on the big screen and on DVD later.
As for the collaborative gaming with wife-thingie itself, well, the picture here says it all. Ling's never quite played games before; my few attempts to get her interested in PC gaming failed so badly I gave up. But now she's gotten into Uncharted: Drake's Fortune and enjoying it that I cannot but help feel satisfied at this small achievement. Oh, she still gets me to go through the combat portions for her, but she's handling all the platform and adventuring aspects of it.
Pigs can fly, indeed.:)