October, 2007
now browsing by month
I've become a senile old man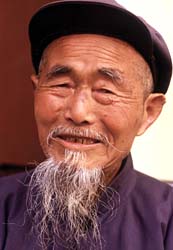 There're actually both upsides and downsides of getting older by the years. On the downside, there was that time round outside Hougang Mall when a flag-seller referred me to as "Uncle". On the upside, I get to start counting down on one hand the number of years SAF can call me back to finish by 7 High 3 Lows. Funnily, I still think I'm as mentally alert as I was say 10 years ago.
All that changed just this afternoon. We were heading towards Raffles City Convention Centre to pick up tickets for my Graduation Ceremony the following day, when I crossed the red light, and WHOMP, hit another fellow driving a pretty new Honda Civic making a right turn.
So, OK all of us occasionally miss red lights. Heck, I've even teased Ling here before about how she's missed seeing two red lights in the last year. But check out what was going on in mind at the time of collision: I did see the red light, but the red light did not register a "Stop the Car You Dumb Ass" message in my mind. In fact, my mind comprehended the red light, for some unfathomable reason, as "All Clear – Go Go Go".
At least in Ling's case it's unavoidable that you miss seeing things now and then what with the amount of distractions on the road. In my case, if that's not a sign of my going senile, I don't know what is.
The middle-aged driver in the other car was alright albeit a little shaken. The collision was slight as I saw his vehicle just as I cleared the junction and reacted fast enough to swerve to the left. The Honda Civic had some scratches and the front bumper came out a mite.
All that said, I'm really thankful that I didn't kill or hurt anyone with this little accident. If nothing else, our Latio survived almost unscathed with just a very faint scratch. These things must be built like tanks!