September, 2007
now browsing by month
Laaaatiooooo…..Ooo, hot hot…
Yang's side of the family has been commenting that it is about time we change to a new car before our current Honda Civic depreciates drastically, especially after 5 years. So I have been bugging darling dearest on the subject and just 4 days ago, he started doing research on new cars available within our budget. And boy, was he so efficient as always. Just say that I'm a 286 while he's a Pentium Core 2 Duo.:)
Even though I gave him conflicting information about the features I desired in a new car–such as looks – cannot look like 'ah peh', logo design – yeah, horse-power, fuel consumption–he managed to narrow down to 4 models – and he reminded me to be realistic, hee hee. He'd also created a whole bunch of really complicated looking spreadsheets comparing the 4 models based on user reviews, car specifications from manufacturers, forum feedback, and dunno what else; then ranked the four based on all that. By the time we'd gone for the first test drive this morning, we already had a probable winner based on all the information he'd gathered!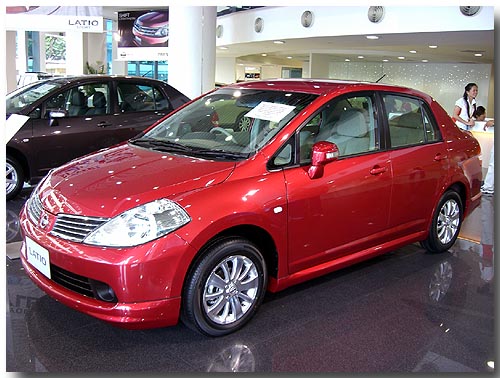 So, after hearing so much about the cramped leg room in Toyota Vios and the fact that it is made-in-Thailand, we decided not to waste the Toyota car agent's time. Our first stop was Tan Chong Motors – Nissan showroom at Ubi. And by queue no, Lester (and don't name your child starting with the word 'Less' ok?) came to serve us. We (or at least I) were glad to have him as he was the best car agent at the showroom. Boyish charm and clean looks, Lester knew his trade well. He also had that honest face and sincere disposition about him that placed me at ease that we were not misled by some crooks.
Vibes aside, our hearts were won over by the roominess, pleasant interiors, intelligent key performance, auto headlight system and fuel economy of Nissan Latio Premium. Of course, had not darling done his homework we would be shopping aimlessly from showroom to showroom feeling exhausted and probably confused at the end of it all. Nissan Sunny, the cheaper sibling of Latio, gave us a very cheap feel in comparison. It had limited leg room too.
Although we were quite decided on Latio after a test drive, we thought it wiser to check out other showrooms which were nearby. So we headed to Mazda at MacPherson road to test drive Mazda 3. Aiyoh, first impression already a goner. Nobody came to greet us or serve us for the first 10 mins we were there. Although we didn't dress like VIPs, we looked interested okay! Anyway, a lady car agent finally came over to serve us.
The Mazda 3 has an aerodynamic design but I kenna knock my head against the passenger door frame when trying to get out of the car. Yang was more careful; at least he noticed the low door frame right from the beginning and smartly used it to cushion his head hee hee. Until now, I'm still feeling the concussion. I'm confused over whether to sue Mazda or not. The test drive gave me neck ache soon after and I didn't feel comfortable at the driver's seat at all. The black interior design didn't suit my taste for elegance too. Sigh, the car agent made things worst by citing the inappropriate strengths of the car like, we can place golf equipment in the boot easily (but we don't golf), telescopic meter gauge (who cares), hydraulic glove compartment and boot (so what), low CG (no wonder my head kenna 'bua lu ku'), etc.
Darling also shortlisted Mitsubishi Lancer but its showroom is too far away. We discussed and came to an agreement that Latio shall be the one! We chose exactly the same color scheme as the one we saw in the showroom – red body with beige interiors

My, sorry, our first red car!

Zzroommmm!
Oh ya; the picture of the showroom car here we took after signing on the dotted line, and that's our color.