August, 2007
now browsing by month
Fishy Business Part 2 of 3
The Best of Fish & Chips @ Fish & Co
I didn't realize that I was on a fish roll until Ling remarked that we'd just had fish and chips at Ikea the day before. The both of us had errands in different parts of town (myself meeting an old friend from Informatics, and Ling picking up some educational media from Bras Basah) to run on the Saturday morning. We met up at Centrepoint thereafter for lunch.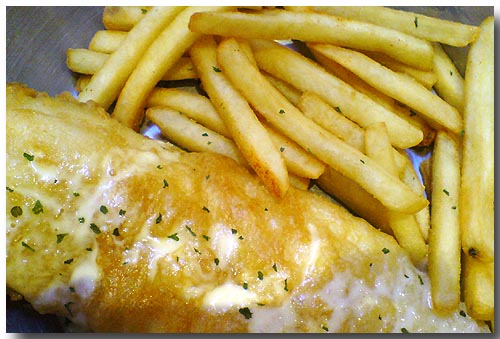 The Fish & Co outlet at Centrepoint is pretty much tucked away in a corner of the mall, which doesn't normally experience the throngs seen in Heartland malls to begin with. Hence, the crowd was relatively sparse, even for Saturday lunch. Ling ordered a Swordfish Collar, and myself a funnily named "The Best Fish and Chips in Town" item. Waiting time for the Swordfish Collar was horrendous at about 35 minutes, during which we bid our time making faces at each other haha.:)
The fries in the Fish & Chips set were ordinary, but the fish was sumptuous. There were two reasonably large – and thick – pieces, with each fishy meat stuffed in between the crispy skin, decked in Lemon butter. Yummy. The fish had been fried to just the right degree too, and unlike Friday evening's Ikea dinner, the dish was pipping hot. At $13, it was reasonably good value too.
I sampled Ling's Swordfish Collar, and boy was it well worth the wait. It deserves its own entry – when we revisit the restaurant again.:)
Food: 8.5 / 10
Value: 3.5 / 5
Overall: 4 / 5. Not the best Fish & Chips I've had before, but close enough.