Black Pepper Goodies
Black Pepper (Beef) Rice @ Pepper Lunch Express
Ling was remarking the other evening the absence of food-related entries into the blog. Truth to tell, we've been either eating at the same places or cooking at home-our dining experiences have been rather plain of late. In fact, I've been having a binge on sweet potato porridge for several weeks now, but who among us would be actually interested to read my recipe write-up on that?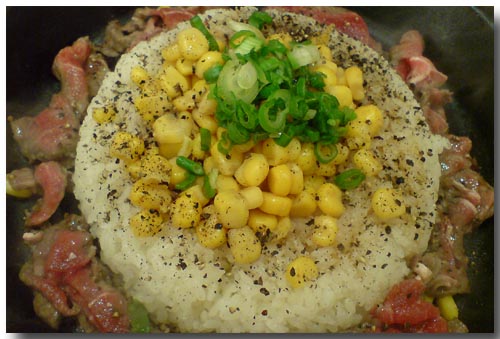 Still, we were at Hougang Mall a few evenings ago to pick up my new pair of glasses. There's a Pepper Lunch Express outlet on the basement floor, and we've been seeing this restaurant chain at a few other spots around too, so popped in for a dinner. We've normally been giving the place a miss as the prominently displayed prices on the outside aren't actually low – set meals go for around $8 to a whopping $16, which is pretty much out of the fast food price range.
Both of us had the same thing: black pepper rice, pretty much nearly the cheapest set meals on the menu since everything else looked really dear. Basically, you get what the picture shows, and on a hot plate. Rice, nicely seasoned beef on the outskirts, corn and a mixture of other condiments in the centre. Upon serving, you mix up the entire lot, let the hot plate do its thing, then add sauces to taste.
How was the taste then? Pretty interesting: the quality of rice grains used was high – we could really taste the difference compared to the cheapo NTUC rice we use for cooking at home. The rice sans sauce was already pretty tasty with a strong black pepper-ish taste, and adding either the garlic or honey brown sauce adds even more flavor. The plate was about ok in portions; definitely adequate for Ling and myself, but hungry eaters could find the serving just a tad small.
Food: 8 / 10
Value: 2.5 / 5
Overall: 3.5 / 5. All in all, a pretty mixed bag. It's pretty good and tasty food, but the asking price of $8.80 (even with a drink thrown in) is well out of the fast food range.