A Story of Love and Money
"It is a truth universally acknowledged, that a single man in possession of a good fortune, must be in want of a wife."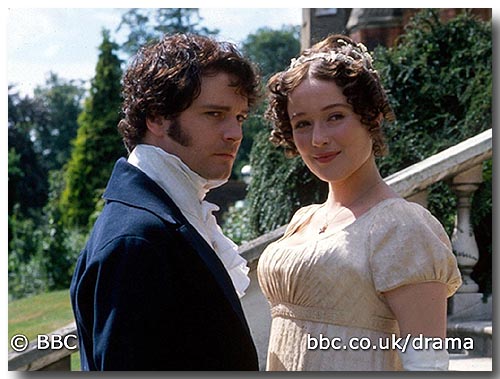 Ah, the famous opening line in Jane Austen's novel 'Pride and Prejudice'. Yang surprised me by buying a DVD movie adaptation of this well-loved novel recently since I enjoyed the story so much. It took him quite a while to find this DVD as many shops here do not carry it. (Thank you, darling!)
As I was to learn later, this adaptation is a 1995 BBC production instead of the 2005 movie starring Keira knightley as Elizabeth Bennet and Matthew Macfadyen as Mr Darcy. Yang told me that this BBC series is highly acclaimed amongst the other 'Pride and Prejudice' films. Some say that this series is even better than the book itself.
Work in term 3 was so hectic that only at the end of week 4 did I have the luxury of time to sit down to watch the DVD. After watching the 6-episode production, I fell in love with it! The choice of cast for the various intriguing characters was superb and there was depth in the development of characters. Besides the all so wonderful Elizabeth and Mr Darcy, I also marveled at how effective Mrs Bennet, Mr Collins and Charlotte Lucas turn out to be. Excellent acting there.
The scenery in this movie is like – makes me yearn to visit England someday. The lakes, woods, fields and houses – ah, so very lovely. They melt thy hearts

If you get to watch this film, check out the costumes too.
An ex-colleague loved the novel so much that she has read it 100 times over! And she's in her sixties now. Wow. As for me, I had read it twice. Compared to 'Sense and Sensibility', this one is filled with witty dialogue and interesting plots. In addition, the old English language sounds so cultured and beautiful as compared to what we use today for our spoken word.
There's one minus point though. A strange feeling of loss mingled with longing lurks somewhere in my subconsciousness after watching the show or reading the book. I suspect what I felt was similar to those feelings of many soccer fans after each World Cup season ended.
Ah, the power of story.