July, 2007
now browsing by month
All watery
Vegetable rice @ Hougang Mall Kopitiam
Most of the fourth level of Hougang Mall seemed to have been undergoing renovation like forever. The area had been pretty much partitioned off for several months, which left the both of us guessing what new store was going to appear eventually.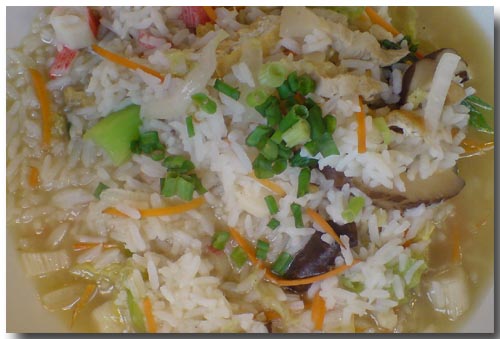 The both of us were quite surprised when the partitions finally came down a week ago; it was a new Kopitiam foodcourt. Of all things! For those of us familiar with Hougang Mall, there are food outlets at the basement (Pepper Lunch Express, Ya Kun Toast), level 1 (e.g. KFC, Mcdonald's, Delifrance), level 2 (fine dining restaurants), and a foodcourt on level 5. Heck, with the new Kopitiam outlet, the only remaining level without an eatery of some kind is level 3. I mean, Singaporeans love food but we thought the mall had quite overdone it now. There're more eating than shopping places in the mall.:)
Thing is, this new food court now comes in direct competition with its older and established cousin upstairs on level 5. On their side, the decor makes the food court look really like those old 1950-1960s coffee shops, and Ling thought the ambiance looked really nifty. I'll have to put a picture of the area now soon. I thought the whole thing looked real claustrophobic on the other hand. On the down side too were the prices: many of the items were more expensive than other food Courts by 50 cents to a dollar, with some set meals costing in the $7 and $8 range now.
I chose a vegetable rice set that really looked better on the menu than in reality; it was rice drenched with soup stock and ingredients, including mushrooms, carrot sticks, lettuce and other condiments. Tasted like Mui Fan. On the upside, the portion was large enough to make finishing the meal a real challenge, even for someone with as hearty an appetite like me. On the downside, the fare was pretty bland for my taste buds, but this I imagine is more a problem with the nature of the dish – Mui Fans all taste bland.
Food: 5 / 10
Value: 3.5 / 5
Overall: 2.8 / 5. Not something I'll want to try again for sure. Next time, we'll go upstairs for lunch, even if it's more dreary looking.