May, 2007
now browsing by month
Blueberry muffins at last!
I'm not a fan of muffins but if it is blueberry muffins, I wouldn't mind.

Maybe it's the colour or the taste or the spongy moistness about blueberry muffins.
Recently, Yang's cousin and mother got a recipe for muffins and baked some for us to try. It got me interested. I went online to look for blueberry muffin recipes, read up quite a bit and then decided on one which looked the most promising.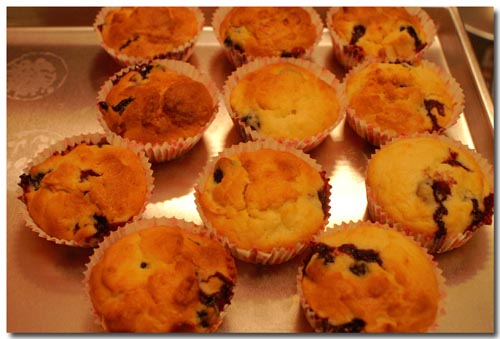 I borrowed my mother in-law's muffin trays and tried out the new recipe this afternoon. It turned out to be a great success. It was fragrant, moist, tasty and moderately light. Here's the recipe (slightly modified to suit my tastebuds)

Blueberry Muffins
Ingredients (makes about 24 small muffins):
Mixture A
plain flour / self-raising flour (2 cups)
baking powder (1 tbsp) – if plain flour is used
baking soda (1 tsp)
salt (1/2 tsp)
cinnamon powder (1 tsp)
Mixture B
butter (3/4 of 250g block) – softened;
sugar (3/4 cup) – I like it not too sweet. Add 1 cup if you prefer sweeter muffins
eggs (2 large)
plain yoghurt (1.5 cup)
Others
fresh blueberries (1-1.5 cups) – 1 small tub from Cold Storage will do! If frozen blueberries are used, do give them a light coat of plain flour before adding into the batter. This is to prevent them from sinking to the bottom.
sliced almonds (1/2 cup or as desired)
Cinnamon sugar (optional)
Method:
Line muffin trays with paper muffin liners.
Oven: prepare middle lower rack and preheat to 190 degree celsius.
Sift dry mixture A together into a bowl. Set aside.
In another large mixing bowl, use an electric hand-held mixer to beat butter and sugar together until fluffy.
Add eggs, one at a time, beating until each one is incorporated.
Add half of mixture A + 1/3 yoghurt and fold in (with a spoon) until just incorporated. Do not over mix it. (It's ok to see some flour)
Add a quarter of mixture A + 1/3 yoghurt and fold in until just incorporated. Do not over mix it. (It's ok to see some flour)
Add the remaining mixture A and remaining yoghurt and fold in until just incorporated. Avoid tendency to mix until batter is smooth! Some traces of of flour is fine.
Gently fold in the blueberries and sliced almonds. Batter should be quite thick now.
Scoop the batter to fill 3/4 of each muffin liner. (It is easier to use another spoon to help unload the sticky batter into the muffin cups)
Sprinkle cinnamon sugar on top of each muffin. (optional)
Bake for about 20-25 minutes until the tops are golden brown. Test by poking with a toothpick to see if any batter sticks to it after taking it out. Once the toothpick is clean, the muffin is done.
Set aside to cool for 5 minutes. Remove muffins from tray and serve warm (with Hershey's chocolate syrup as desired). Yums!