A high adrenaline event
I can finally breathe easy now that my choir's SYF (Singapore Youth Festival – Central Judging of Choirs) event is over. The girls, together with their conductor, were awarded 'gold with honours'. I couldn't believe my ears when the results were announced early this evening as we were prepared for the worst especially with all kinds of negative remarks made about the choir. We went through 2-weeks of downhill performance before this day and never shone before other good choirs during choral exchanges. I knew that my choir members were made of the right stuff for the loftiest award but such awareness often wears off when one is immersed in an environment where people around you tend to be musically trained and when comparison and competition are strife.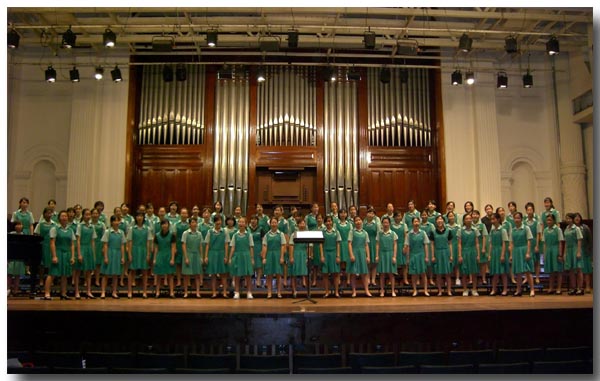 I think I shouldn't be running choirs for too long. It is taking a toil on my mental and physical health. I myself had enjoyed being a chorister before and it affects me personally whenever my students reveal their lack of commitment and passion. The school has high expectations of the choir too. And in a way, I feel pressurized to ensure that the choir deliver because the school has treated us very well.
It's really the people-factor that is burdensome. Sometimes, I was caught in a dilemma of whether to field an 'attitude-problem' but fantastic singer in a competition. In the past, it was an absolute 'no-no' as such a student didn't earn the privilege. Now, it really depends. I have been reminding myself to use people for a greater good and glory. If I cannot improve how my 'ill-disciplined' students behave in the short run, I would use their talents for the benefit of other well-behaved students. If I can use them to value-add without damaging the morale of a team, why not. At the end of the day, I want to see my choir experience great satisfaction and exuberance in achieving a great goal, especially for those who have put in their heart and soul to do well. In short, I go for a win-win situation. Sounds like a game strategy, isn't it?
My choir still have a distance to go to develop strength of character in many aspects. They need an excellent guide with a strong heart with a 'never-say-die' mindset.