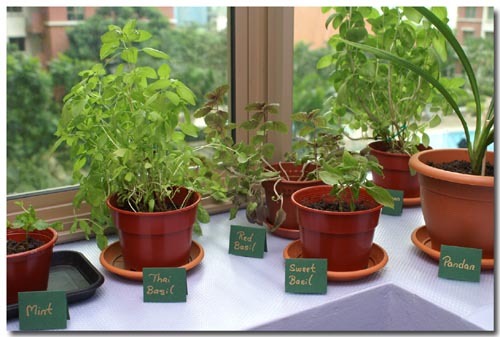 Recently, I discovered that I got company in my interest for growing herbs. At least 3 other colleagues were also herb enthusiasts. We making branch cuttings of our herb 'collection' for one another – what a wonderful way of sharing without having to spend at all!

So far, I have acquired Dill, Laksa plant, Mint, Sweet Basil and Pandan. The Laksa plant is adapting very slowly to its new environment but my mint appears to be struggling with wilting leaves! The rest are doing fine so far.Anyway, updates on my 4 basil plants bought from Cold Storage now. Except for the lemon basil which was so frail that I decided to uproot it to make space for other plants, the rest are growing very well! The red basil has been losing its deep maroon colour over the weeks – I suspect that this is due to too much light. The cinnamon basil is a winner. I had recently propagated 3 small pots of it for my colleagues

Yang asked whether I could also keep parsley too – the Italian variety. I saw Cold Storage sell that recently. Will keep an eye out for new supply. Alternatively, I could drive northwards to some herb farms which sell it. Actually, I had been contemplating of growing them from seeds. Theoretically, it should be quite easy and neat. Moreover, plants grown from seeds have stronger root system. I like robust plants.