January, 2007
now browsing by month
Hong Kong food 24/7
Xin Wang Hong Kong food @ Cineleisure Orchard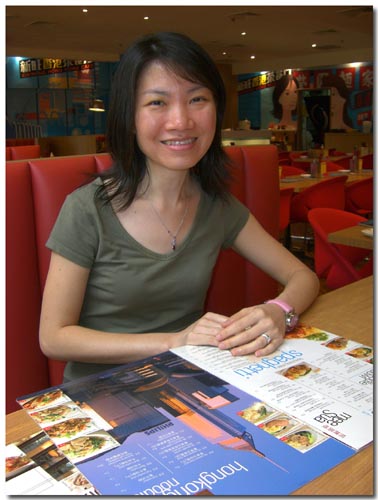 Of all the movie cineplexes in Singapore, Cathay remains my favorite. It's not so much about the location of its theatres, but that I get a discount off ticket prices at the cineplex, and that the cineplex's tickets are the cheapest of all screening halls in Singapore to begin with.
We've been watching shows at Cathay Cineleisure almost exclusively for several months now. The Sunday before last week, we stopped by a restaurant we've haven't patronized up till that time for brunch before the 10:45 a.m. screening of Borat. This eatery is, apparently, a 24 hour one, though whether those round-the-clock opening hours extend into weekdays we didn't inquire.
Anyhows, besides one other group of patrons, we were the only other patrons at 9:15 a.m. The menu design and layout reminded Ling of Cafe Cartel. The prices were even better: most of the main courses were $6 to $8, with beverages $3 to $5. What the both of us did wonder though is just how many items on the menu are "true" Hong Kong cuisine. Nevertheless, we both placed our orders with a chirpy middle-aged waitress who spoke Cantonese to us, even though neither of us could understand the dialect very well haha. Funnily, she was the only waitress who spoke Cantonese to us in the whole restaurant, unlike say the staff at Crystal Jade.
It took us a while to decide on our brunch items. Mine was a very interesting plate of Minced Pork Fried Rice for $7.90, interesting in that this is the first time I've seen fried rice cooked with minced pork.:) Ling had a curry chicken and bread set that she liked so much she's gonna blog it soon enough. The fried rice did indeed have a substantial minced pork portion which had been cooked with gravy, and the rice was liberaly spruced with scrambled egg and topped by another sunny-side up.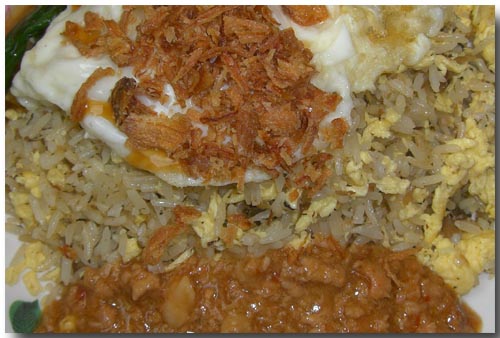 What Ling especially liked was the inclusion of what she believed to be preserved olive vegetables in the fried rice, which certainly helped in the taste a lot. Funnily, I don't think the minced pork added that much to the overall taste. The fried rice itself was already very tasty with great flavor in the rice, which was made all the better with preserved green chili. Service was excellent too; and decor was quite pleasing; we had a window seat with the bright Sunday morning light adding to the pleasant ambiance.
On the down side, we were charged for ice-water – 40 cents. Boo! And the usual service charges and GST apply to the bill, though again the asking price of food in this restaurant is modest to begin with.
Food: 8 / 10
Value: 4 / 5
Overall: 4 / 5. Excellent fare, and there're loads of other interesting items on the menu too, including a crab congee – wow. We're gonna come back here soon again.