December, 2006
now browsing by month
An even better plate of chicken rice
Chicken rice @ Koufu (Sengkang East Avenue)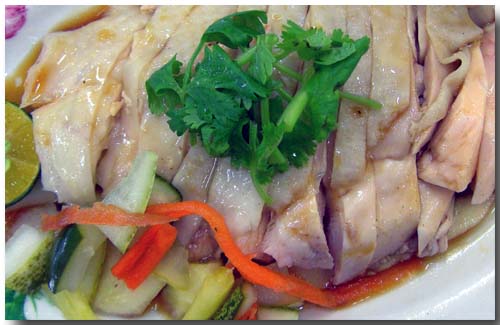 OK, so maybe chicken rice is almost ubiquitous in Singapore, but I still never stop taking a peek at the chicken rice stall at foodcourts we visit in the hopes of finding even better fare at better prices. We hit the Sengkang East Avenue Koufu foodcourt – about 6 minutes drive from The Rivervale – for an early dinner Friday last week, and was pleasantly surprised to find a chicken rice set meal that went for an astonishing low of $2.50! This has been the cheapest foodcourt boneless chicken rice I've found anywhere so far.
What was even the more surprising was that the serving had a small portion of "a char", which I think are sweet and sour vegetables which Ling likes a lot. She remarked during dinner as well that the "a char" side is actually a necessary component if the fare is to be considered "true" Hainanese chicken rice. The serving of meat itself wasn't more generous than other places, but for $2.50, it's a terrific steal. Patrons to the stall though should note that the oyster sauce vegetables are not part of the set. They can be bought as an additional side for $2, $3 and $4; and while the vegetables were tasty, is less value for money.
I also have to mention the excellent service offered even when compared to a normal sit-down restaurant. The cashier and shop hand was so polite I almost felt awkward.:)
Food: 8 / 10
Value: 4.5 / 5
Overall: 4.2 / 5. If a side of vegetables had been included and the set meal $3, this would have rated a value 5 / 5.