September, 2006
now browsing by month
Expensive instant noodles
Roast chicken ramen @ Toa Payoh Central foodcourt
Ling has been raving about the Ramen at Toa Payoh Central foodcourt in her entries now, so I decided to also give the fare a go for dinner.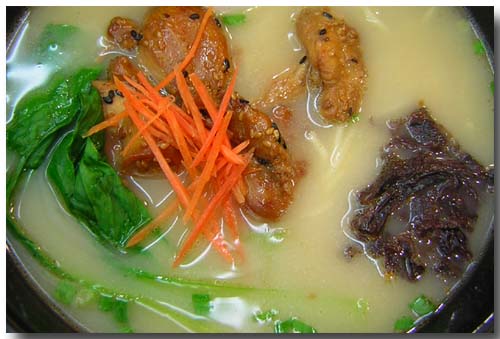 I noticed a few things when queuing up on Saturday night for a late dinner. The stall has been reviewed by Sunday Times food critic Teo Pau Lin before, or so a framed up article prominently displayed on the hawker counter indicated. I didn't get a good look at the article itself, but I suspect the review must had been glowing; otherwise the hawker wouldn't have dared to put it up. Secondly, it seemed most of the Ramen versions offered were really similar in noodle type (dry or soup) and soup stock. The difference seemed to lie in the meat or vegetable items that get added. Ling told me when I was back at the table that for a slightly higher price, you can ask for better soup stock.
I chose the roast chicken version for $4.50, and had mixed feelings on the whole thing. Firstly, roast chicken does nothing for Ramen. One could have had eaten or even bought the noodles separately from the roast chicken, and not observed how exactly is the chicken really supposed to make the rest of the dish taste better. Secondly, the soup itself was edible with a fairly strong flavour in the stock. But it just didn't make me gush for more; I left most of the soup untouched in fact. The noodles were well simmered, but I still couldn't figure out how really better are these noodles compared to the instant kind.
Food: 6 / 10
Value: 3 / 5
Service: 3 / 5
Overall: 3 / 5. Ling likes it more than I do.
Claypot chicken rice revisited
Claypot chicken rice @ Compass Point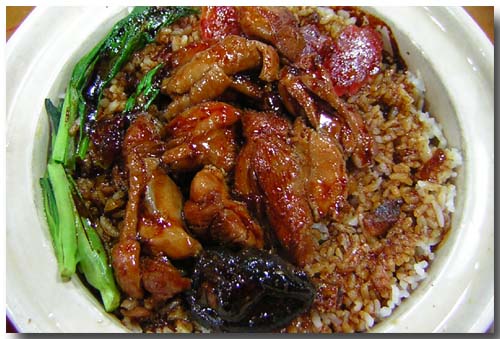 The two of us made another trip to The Rivervale to work out some matters with the condominium manager, after which we headed for an early dinner again. I've been eager to try out the claypot rice at other places in the hopes that I'd find something that's even tastier than what I've had at Thomson Plaza. I found one such stall at the Compass Point foodcourt on level 4, and here's the report card.
There are some similar aspects compared to the Thomson Plaza version. The cooking style is similar, there's chicken, veg, salted fish and the like still. It also cost $4 too. The taste however was noticeably different. Specifically, while this evening's version was heavily drenched in sauce, the sauce itself didn't improve the flavour of the rice at all. In fact, the sauce was tasteless and I almost thought it was more colouring than anything else. So, while the chicken pieces were comparable, the all important accompanying rice was not – and it fared poorly. On the upside, the supplied chilli was magnificent. It was pleasantly sour with a taste of lime, and left an exciting tingle on the tip of the tongue whenever I dipped the chicken in.
Food: 3 / 5
Service: 3 / 5
Value: 3.5 / 5
Overall: 3.2 / 5. It's serviceable, but the Thomson Plaza claypot rice still rules.
Signature dishes @ these foodcourts
Well, my returning to the same dish for the 3rd time is evident that the food has won my liking. Both the char siew wanton mee (dry) at Rivervale Mall's foodcourt and korean bibim bab at Thomson Plaza's foodcourt are my top 5 favourites on the foodchart.
Char siew wanton (dry) @ Rivervale Mall Foodfare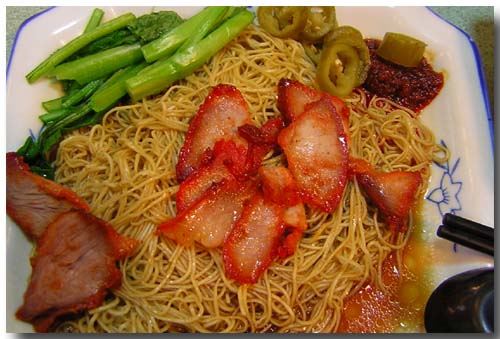 There was a queue at this well-known noodle stall to begin with. For that sensational chewing experience, a little queuing is worthwhile. From the photograph of the dish here, one may think that it must be the toppings that entice. Ah no. It is the special texture of the noodles that made this dish so outstanding.
Having eaten wanton (dumpling) noodles since I had my milk teeth, this is the best so far. Even the reputable Crystal Jade's noodles is a shade lower. The important thing about preparing such noodles in dry style is not to allow them to stick together and make them taste gluey. Every bite is accompanied by some faint crunchiness – oh, its texture is beyond vocabulary! Sedup!
Food: 3.5 / 5
Service: 3 / 5
Value: 4 / 5 ($3 only – where got so cheap one?)
Overall: 3.5 / 5. The wanton can be improved. Crystal Jade beats them hands-down.

Korean Bibim Bab @ Thomson Plaza Foodcourt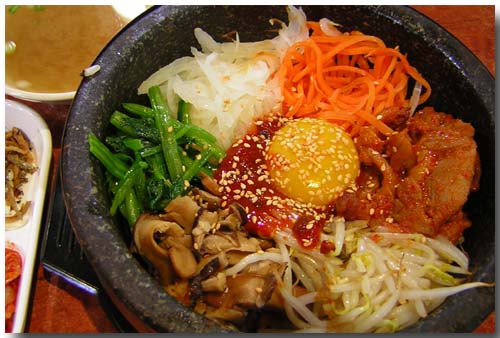 I'm in love with this 'claypot' rice. And it is so healthy eating. Lotsa vegetables (carrots, raddish, spinach, bean sprouts and shitake mushrooms) with sufficient protein from an egg and marinated chicken meats over white rice.
A special red sauce is used to add a unique flavour that distinguish this dish from other claypot rice available here. This dish is actually cooked in a thick stone pot and it is piping hot when served. I always mix all the ingredients together before savouring the streaming food. The price is a bit steep though. For $6.50, I think the portions of various ingredients can be more generous.
Food: 4 / 5
Service: 3 / 5
Value: 2.5 / 5
Overall: 3.2 / 5. The price tag lah. Anyway, no money must also save up to eat this dish!