Roast chicken ramen @ Toa Payoh Central foodcourt
Ling has been raving about the Ramen at Toa Payoh Central foodcourt in her entries now, so I decided to also give the fare a go for dinner.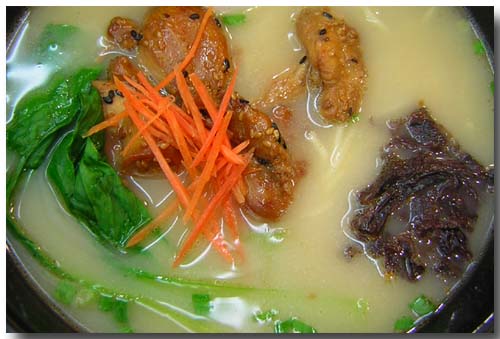 I noticed a few things when queuing up on Saturday night for a late dinner. The stall has been reviewed by Sunday Times food critic Teo Pau Lin before, or so a framed up article prominently displayed on the hawker counter indicated. I didn't get a good look at the article itself, but I suspect the review must had been glowing; otherwise the hawker wouldn't have dared to put it up. Secondly, it seemed most of the Ramen versions offered were really similar in noodle type (dry or soup) and soup stock. The difference seemed to lie in the meat or vegetable items that get added. Ling told me when I was back at the table that for a slightly higher price, you can ask for better soup stock.
I chose the roast chicken version for $4.50, and had mixed feelings on the whole thing. Firstly, roast chicken does nothing for Ramen. One could have had eaten or even bought the noodles separately from the roast chicken, and not observed how exactly is the chicken really supposed to make the rest of the dish taste better. Secondly, the soup itself was edible with a fairly strong flavour in the stock. But it just didn't make me gush for more; I left most of the soup untouched in fact. The noodles were well simmered, but I still couldn't figure out how really better are these noodles compared to the instant kind.
Food: 6 / 10
Value: 3 / 5
Service: 3 / 5
Overall: 3 / 5. Ling likes it more than I do.