August, 2006
now browsing by month
Good Fun
Hor fun is a popular dish here in Singapore. Basically, it comprises flat noodles cooked in a variety of sauces and ingredients depending on its sub-type. Three common types are seafood hor fun, beef hor fun, and Ipoh hor fun, and I have no clue why the latter's called that. We were eating out yesterday night, so the both of us – alongside my younger bro, sis-in-law, little Jonathan, and Dad – hit a coffee shop near the family home at Casuarina Road that is reputed to sell fabulous Beef hor fun.
Beef Hor-Fun @ Wah Hoe Seafood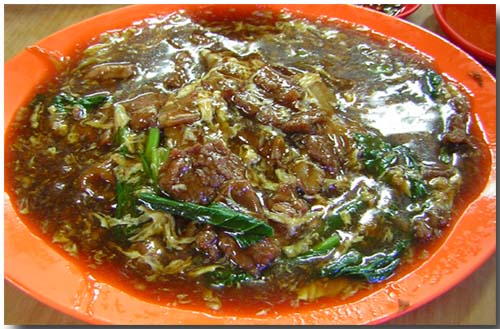 Wah Hoe Seafood is located at the corner of Casurina Road, near the point where Upper Thomson Road intersects Yio Chu Kang road. I've driven past this shop before, and it's almost always crowded every night, with tables even lining the pavement by the road.
It was no different yesterday evening when we were there. The eatery apparently specializes in seafood cusine: one of the many water tanks contained king-sized crabs. We ordered several plates of Beef hor fun, and two additional sides: prawn-paste chicken wings, and bitter gourd with fish slices.
How was the food? Well, I've tasted a lot of hor fun now, and short of those in hotel restaurants, this is the best hawker hor fun I've tasted. Both of us were quite impressed with how tender and flavoured the beef slices had been cooked. The flat noodles itself actually tasted great too – a rarity if you are aware how hor fun is normally stored and cooked in most other hawkers. Moreover, the portions were pretty big. I could finish mine, but Ling needed my willing and ready assistance.:) Best of all, the plate cost just $4. Great value for money.
Of the two sides, the bitter gourd was ordinary, but chicken wings were great. They had been coated with a layer of prawn paste then deep fried. Unfortunately, I didn't get to take a picture of that plate. But take my word for it: it's a must try if you don't mind the wings being a little oily. Pricing: $1 per chicken wing. We also saw the waiters carting around huge plates of chilli crabs too around tables – those must be really good.
On the down side, it was hard to get a free table, and there was a somewhat long waiting time of 15 minutes upon ordering. Ambience requires acquired acceptance too: the place is terrifically noisy. Moreover, a minor miscommunication between two waiters over our table's order saw the both of them having an exchange right over our heads. Bad. If you two staff have issues, take it back door lah.
One more thing. While the food prices are fair, you get charged GST. On the overall:
Food: 4.5 / 5 (Ling says that only Crystal Jade's hor fun is better)
Service: 2.5 / 5
Value: 4 / 5
Overall: 3.7. Qualified recommendation. This is the place you come to eat and leave soonest. You won't want to linger around.