July, 2006
now browsing by month
Dinner at Patara
With my mum's birthday coming around the corner during the National Day week, all of us headed to Patara last evening for an early celebration dinner. Patara is a successful restaurant that specializes in Thai cusine. In fact, they have received many awards for fine cusine in Bangkok.
Patara @ Raffles City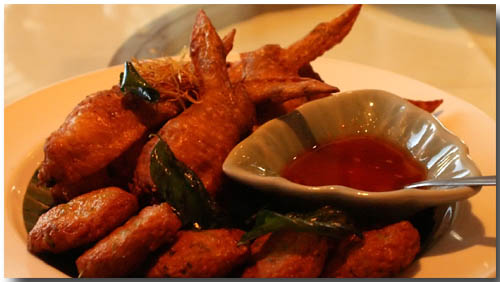 There are several branches of the restaurant outside Thailand too, with two in Singapore itself. There is an à la carte menu, but we had the buffet spread where one chooses from more than two dozen dishes. The Sunday dinner crowd for the Raffles City outlet at 6:30 p.m. was relatively light, though it filled to nearly three quarters capacity by the time we'd finished at 8:30 p.m.
Even with the eight of us adults (and three younglings) at the table, we just didn't have the capacity to try every one of those dishes. That we could indicate the desired size for a number of the dishes did help in letting us sample as wide a range as possible. I didn't get to take pictures for every dish we had a go at, so here's just a small selection of pictures: from top to down: deep fried fish cakes + stuffed (chicken) wings, green mango salad, and part of the dessert spread.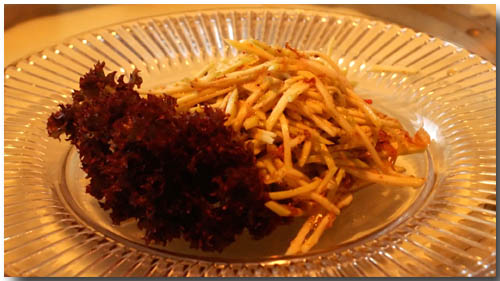 The other items we tried included: tom yum seafood soup with mushroom (fantastic stuff), green curry chicken, red curry of roast duck, beef fillet in dry panang curry, spice marinated pork short ribs, bake prawns with ginger glass noodle, fried grouper fillet in sweet chilli (slices were very crispy and yummy), tou miao stir-fried with garlic (all of us swept this dish apart), black olive fried rice with minced chicken (new dish for us but superb), and pineapple seafood fried rice (not so impressive).
The general opinion from all of us was that the food was excellent with good range. and ambience adequate. However, we were less impressive with the service. The head waiter serving our table was polite while the other waiters were well… sullen. More seriously, several of the waiters didn't seem alert to our table – we had to ask several times for a top-up of drinking water – nor were used dishes and utensils replaced with new ones during the meal, as is the common practice for meals of this type. Price wise was a little on the high side at $28++ per person.
So, on the overall: our ratings:
Food: 4.5 / 5
Service: 2.5 / 5 (Needs improvement)
Value: 3 / 5
Overall: 3.3. You pay for quality. That said, for much lower prices and genuinely interested service, we'd give Jai Thai a higher recommendation. The food is nearly as good, and you are served by cheerful Thai lasses. :P