April, 2006
now browsing by month
To feed 24 critters
One of the most fasinacting aspects of keeping these critters is how they take to different types of food. Not surprisingly, most of the fishes we have in our two tanks have different preferences for what they eat, and in some cases won't touch certain kinds of food altogether. Here's a table of comparison for the 21 critters we have and what we've observed on their feeding habits.
Firstly, the food in comparison: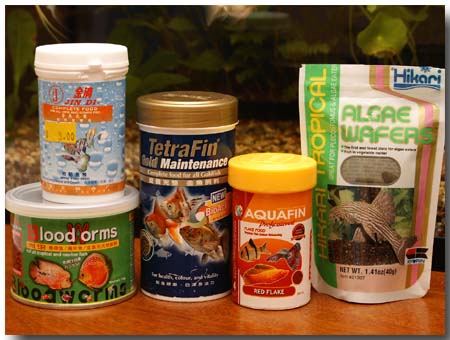 Clockwise from bottom left: 'Futian' dried bloodworms, 'Jin Di' sinking pellets, 'Tetra' goldfish pellets, 'Aquafin' flakes, 'Hikari' algae wafers.
Here are the results from our not terrifically scientific observations (click on it for a larger view).